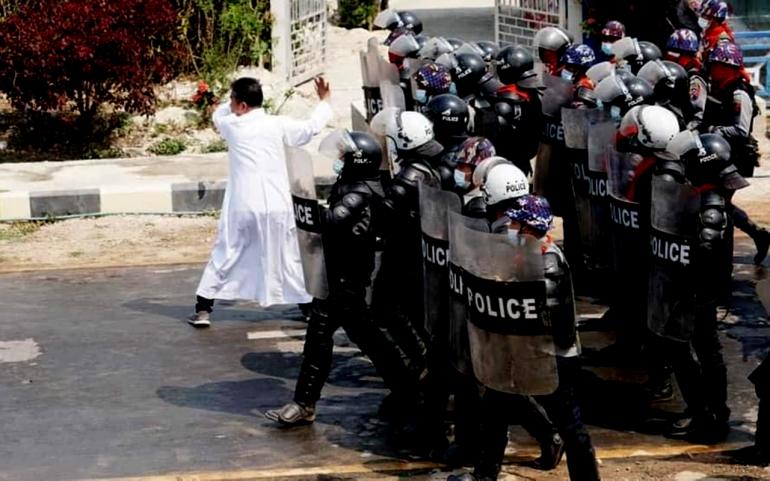 Cardinal Charles Maung Bo of Yangon called for peace in a letter sent to Myanmar's political and religious leaders on March 14, the same day which ended up being the bloodiest since the military coup.
"Over the last weeks we have undergone great challenges as a nation. This crisis will not be resolved by bloodshed," Cardinal Bo saidin his letter.
The prelate issued the letter on the same day that dozens of anti-coup protesters were killed in clashes with security forces.
Myanmar security forces again fired on pro-democracy demonstrators on March 15, witnesses said. 
Cardinal Bo's letter was addressed to State Counsellor Aung San Suu Kyi, President U Win Myint, General Min Aung Hlaing, and the various religious and civil leaders in the country.
"The killings must stop at once. So many have perished," said Cardinal Bo, adding that "the blood spilled is not the blood of an enemy."
"It is the blood of our own sisters and brothers, our own citizens," he said.
"We are a nation of dreams. Our young have been living in hope. Let us not become a nation of senseless disappointment," added the Catholic prelate.
The cardinal cited a message sent recently by the Vatican's Secretary of State, Cardinal Pietro Parolin, emphasized Pope Francis' call for peace in Myanmar.
In his letter, Cardinal Parolin reminded the people of Pope Francis "great affection" for the country.
The Vatican official also asked the Catholic Church in Myanmar to convey the pope's "concern and love" to all the political and religious leaders of the country, "especially in meeting the hopes and ensuring dignity of our younger generation."
Cardinal Bo said Cardinal Parolin requested that the "whole Catholic community in Myanmar will spare no efforts in this direction."
"Fortified by the mandate and encouragement of the Vatican, we the Catholic Church commit ourselves, together with all people of good will, to the task of seeing this nation rise up again in mutual understanding and peace," said Cardinal Bo in his letter.
Myanmar's military wrestled power from elected political officials in a coup on Feb. 1. Since then, for more than a month already, people, including priests, nuns, religious, and seminarians have been holding protest marches and demonstrations. - RVA News with report from LiCAS.news