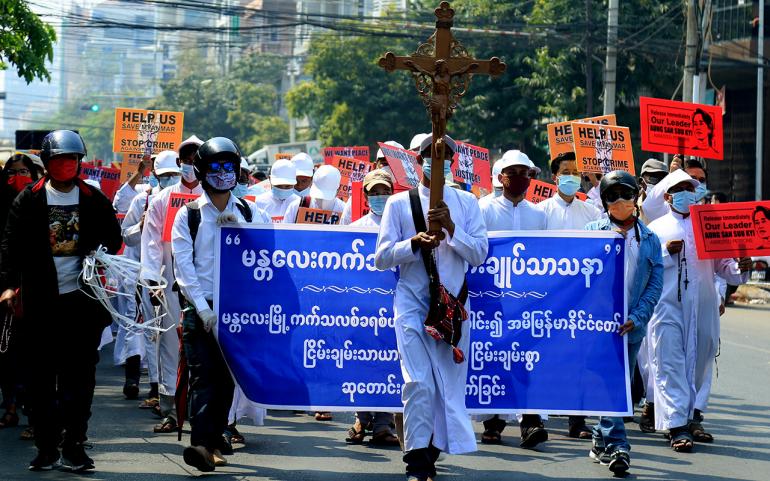 More priest and nuns are joining street marches in Myanmar this week following the shooting of protesters by the police and military outside a Catholic church on Monday, March 8.
"Our presence as people of faith, peacemakers, may help [the military] stop the attacks. This is why we are here on the street," said nuns in the city of Myitkyina in Kachin State.
"We ask not to kill. This is why we have turned to the military. We fear that police officers will kill more young demonstrators," they added in a statement on March 9.
On Tuesday, Bishop Francis Daw Tang, retired prelate of the Diocese of MyitKyiNa, called on the people, including the military to end the violence and work for dialogue.
Violence erupted in the city of MyitKyiNa when soldiers and policemen shot at protesters who were gathering for a demonstration. 
At least two demonstrators were reported killed and several others were wounded.
"I want to encourage and request everyone, including the military …. We need to work together as one family without blaming anybody. We need to go by dialogue not by force," said Bishop Tang.
He said dialogue is the only way to resolve the crisis in the country that started after the military took over the government on February 1 and people launched widespread protests.
"Dialogue and negotiation can bring true peace and justice. If we use any other violent means, the conflict will be endless," said the prelate.
"I know this because I was born in this land. From my very childhood I have experienced endless fighting, sufferings of people, and dying," he added. 
"I don't want to see that kind of pain and suffering anymore," added Bishop Tang.
On Tuesday, hundreds of people gathered in silence in front of the Catholic Church of St. Columban in the city to offer prayers for the victims of the shooting incident.
"I am retired, but charity does not retire. In this difficult moment for our country, we as Christians are called to offer our contribution of peace, mercy, forgiveness," Bishop Tang addressed the crowd.
Sister Ann Nu Tawng, the nun whose photo trying to prevent police from shooting became viral, also appealed for a stop to the violence.
"We preach and bear witness to evangelical non-violence. Our mission is to announce and live the love of Christ fully, even towards the enemy," she said. - RVA News