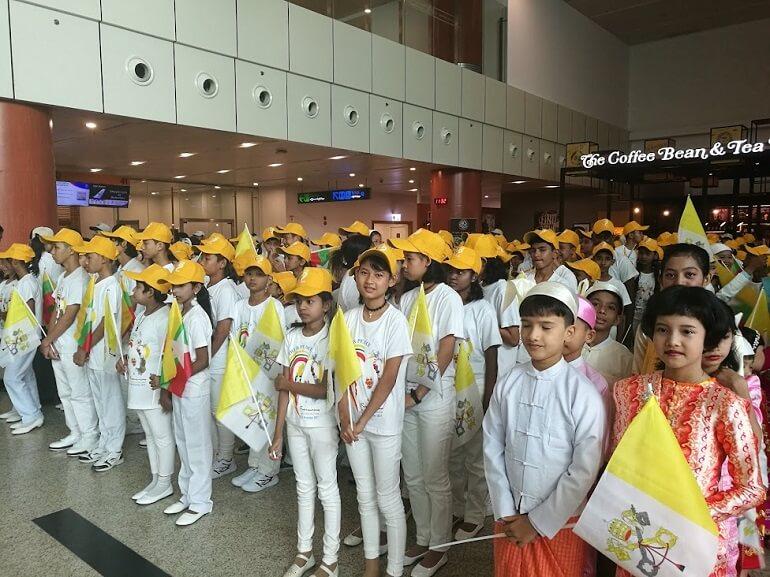 Catholic children in Myanmar will join "One Million Children Praying the Rosary," the worldwide prayer campaign by the Aid to the Church in Need (ACN), on October 18.
Bishop Alexander Pyone Cho of Pyay diocese informed all his priests, men and women religious, and laity that the diocese will join "One Million Children Praying the Rosary" organized by Aid to the Church in Need (ACN) from Germany, on October 12.
"I encourage all priests, religious brothers and nuns, and catechists in the respective parishes to coordinate in order that the event of praying the rosary may be fruitful," said Bishop Pyone Cho in his statement in the Burmese language.
The prelate requested all the adults and youth to participate in praying the rosary together with children.
 "I especially urge all the adults and youth too to lead the event of the prayer campaign even though the campaign is organized with children," the bishop said.
Due to the country's political unrest and heath protocol, the Bishop of Pyay suggested to "join the movement in accordance with their local situation and context."
Father Florence Aung Kyaw Oo, a former chancellor of the Pathein diocese, sent an email to all his fellow priests and invited them to coordinate with the priests concerned for the worldwide prayer campaign.
"May I invite you who can join this graceful event or get children under your care to take part in this mission," Father Aung Kyaw Oo wrote in an email to the priests.
The priest informs that Father Raphael Hpone Naing Oo and the children from the Legion of Mary in the diocese will join in the prayer campaign.
Father Aung Kyaw Oo wrote to all the priests, "A few decades of the Rosary is very much appreciated."
"Trusting in the power of prayer, especially the intercession of Our Lady who is also the Patroness of the Country of Myanmar, to bring peace," said the priest.
 "Being aware of our urgent need for peace, we are encouraged to take part in it," the priest urged the faithful.