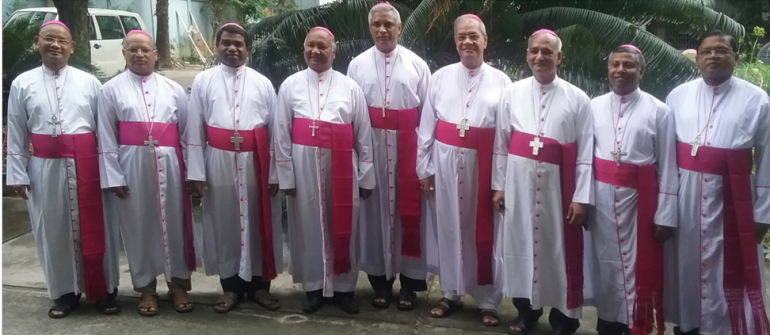 The Catholic Bishops' Conference of Bangladesh has issued guidelines for members of the clergy and the faithful on how to avoid the spread of the new coronavirus disease, or COVID-19.
In a teleconference on March 25, the bishops said "awareness and caution" should be exercised in preventing the spread of the disease.
The church leaders noted that the new coronavirus has already started to spread in Bangladesh, and as a densely populated country there is "high risk" of infection.
Following the example of other countries and responding to the call of Pope Francis, Bangladesh's bishops issued the following guidelines:
1. Follow proper hygiene as set by Bangladesh's Department of Health; avoid public meetings;
2. Make family members aware of the situation and exercise caution;
3. Wash hands thoroughly for 20 seconds with soapy water, rinse hands repeatedly. You can use hand sanitizer if needed;
4. Avoid touching eyes, face, and nose without washing hands. Do not coough and spit everywhere;
5. Cover your nose and mouth with a tissue or cloth/handkerchief when coughing. Put the used tissue in a covered thrash bin. Wash hands, clothes/handkerchief with soap;
6. Keep 3 feet away from a person affected and always use mask for safety;
7. If mass transport is to be used, use mask; avoid touching anything as much as possible; at the end of the journey, use sanitizer to disinfect your body;
8. Avoid rumors, superstitions, propaganda;
9. Discourage the sick and elderly from attending religious services;
10. Avoid receiving Holy Communion with your tongue; priests should use sanitizers four times before and after the the Holy Mass or religious celebration;
11. Keeping the container of the Holy Water in the church dry;
12. In the event of an emergency, priests should use hand sanitizers before approaching a patient; use gloves if necessary;
13. Everyone coming to Bangladesh from abroad should follow the quarantine rules of the government.  - Father Nikhil Gomes