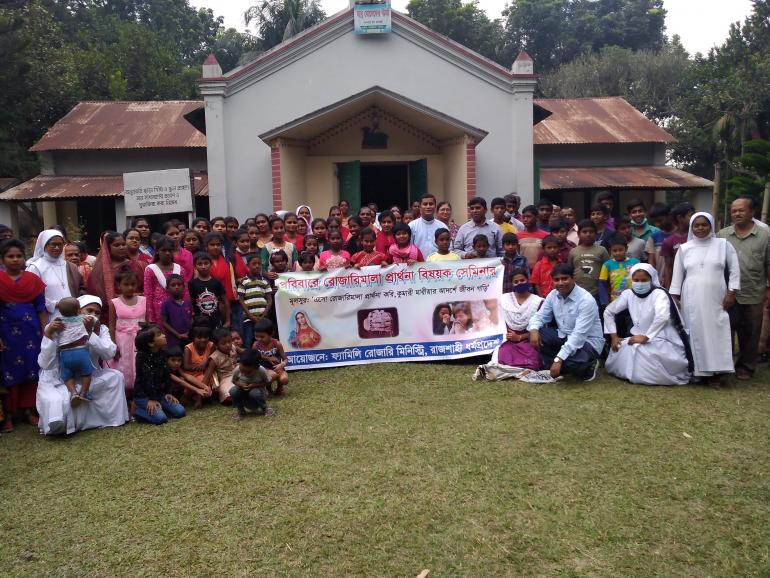 The Family Rosary Ministry Team of Bangladesh's Rajshahi diocese organized a one-day seminar on the Holy Rosary at the Mangasa sub-center in the parish of Borni.
At least 230 people, including five nuns and four priests, attended the seminar that carried the theme "Let us recite the Rosary and follow Mother Mary as model."
In his homily, Father Proshanto Aind said the Rosary has saved the world in the past and will "save the world now, by saving the family."
"We need to pray the Rosary every day," said the priest, adding that "Mother Mary is our model of holiness, simplicity, and obedience."
"She helps us in our every trial and every moment, so we need to pray," he said.
 
"We realized in our life that the Rosary is a chain that binds the family together," said a nun who participated in the activity.
Several participants also shared their testimonies.
"I always pray that Mother Mary save me from all kind of distress," said Mrs. Irin Costa, adding that she once was "cured from a serious sickness through prayers to the Virgin."
Mr. Joseph Palma said: "I adore Mother Mary because she gave me a new life. I was suffering from a serious disease. The strength of Mother Mary gave me a new hope," he said. - Nikhil Gomes / RVA News