Bangladesh's Rajshahi diocese starts observance of Week of Prayer for Christian Unity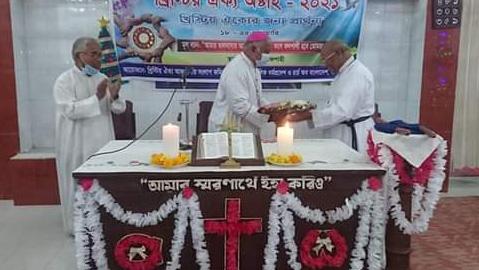 The Diocese of Rajshahi in Bangladesh held an ecumenical prayer service at the City Church of Rajshahi to mark the beginning of the observance of the Week of Prayer for Christian Unity on January 18.
The celebration carries the theme "Jesus, request that we abide in His love, so that we might bear fruit."
Catholic Bishop Gervas Rozario of Rajshahi, Anglican Rev. Daniel Mondol, and Rev. John Baroi led the celebration with the faithful from different Churches and faiths.
Rev. Mondol opened the celebration while Father Patrick Gomes, convener of Diocesan Commission of Christian Unity and Inter-religious Dialogue, presented the background of the Christian Unity Octave.
Representatives of the Anglican and Catholic Churches read the Scriptures while Bishop Rozario of Rajshahi share his reflection highlighting the theme of the celebration.
He pointed out that need for inter-Church union, saying that "we all can pray together so that Jesus' desire might be fulfilled."
 
An intercessory prayer was led by Baptist Pastor Rev. John Baroi.
The celebration ended with participants holding each other's hand while praying the Lord's Prayer. - Nikhil Gomez / RVA News