Bishop Raymond of Myanmar's Mawlamyaine diocese celebrates 33rd episcopal anniversary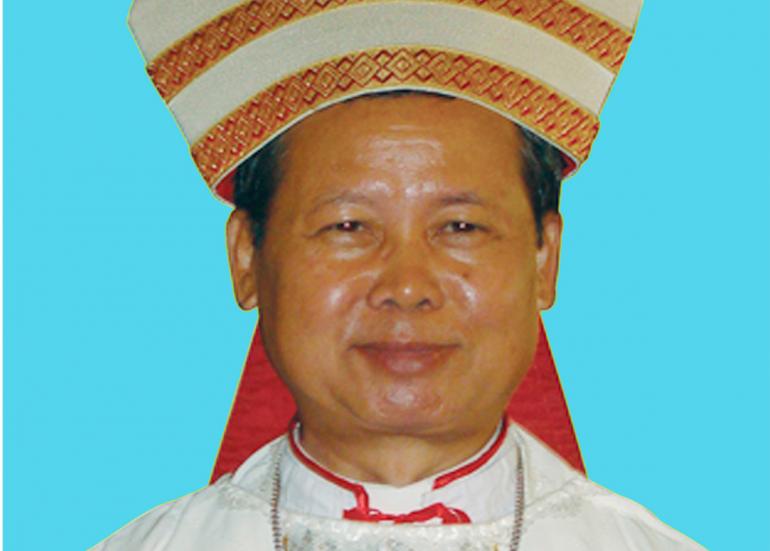 Bishop Raymond Saw Po Ray, bishop of the Diocese of Mawlamyaine in Myanmar, celebrated his 33rd episcopal ordination anniversary on December 8 at the Holy Family Cathedral in Mawlamyaine.
The prelate was born on Jan. 21, 1948, in Henzada, Myanmar. He completed his theological studies at St. Joseph's Catholic Major Seminary in 1975. 
He was ordained priest by the late Archbishop Gabriel Mahn Gaby on April 13, 1975, in Tagyet Village, Tanintharyee Division. 
Bishop Raymond took charge of the following assignments in the past 33 years.
1975 to 1976: Rector of Catechist Training Center in Hpa-An and parish priest
1976 to 1980: Rector of St. Joseph's Minor Seminary in Bogo
1980 to 1982: Theological Study in Dunwoodie, Yonker, New York
1982 to 1987: Professor of Moral Theology in St. Joseph's Catholic Major Seminary, Yangon
Dec. 8, 1987: Consecrated as Auxiliary Bishop in St. Mary's Cathedral, Yangon
1987 to 1993: Auxiliary Bishop of Archdiocese of Yangon
March 22, 1993: Appointed Bishop of Mawlamyaine Diocese
May 27, 1993:    Installed Bishop of Mawlamyaine Diocese
The Diocese of Mawlamyine covers the whole of Taninthayi Division and the southern Mon State. The diocese was established with territories taken from the Archdiocese of Yangon.
Bishop Raymond Saw Po Ray became the first residential bishop of Mawlamyine.
The diocese borders the Paan diocese in the North, Thailand in the East, and to the west Mataban, and the Indian Ocean. 
From 1996 to 1998, major military operations were held in the areas of the diocese against insurgent groups, affecting two-thirds of the villages in the diocese.