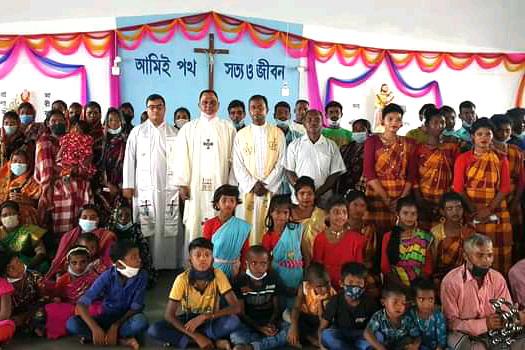 Prayers and offerings marked the celebration of the feast of St. Joseph the Worker at the Dhormohata village church under the Good Shepherd Cathedral Parish in Rajshahi diocese on May 1.
Father Paul Gomes, vicar general of the diocese, reminded the faithful that the Dhormohata church has been named after St. Joseph, "so it is a great blessing for this village." 
"Saint Joseph … has expressed his ideal of humility and faithfulness to God," said the priest, adding that "he was a silent saint."
"He has worked relentlessly through silence. He is the sustainer of all workers. May we follow his example and dedicate ourselves to the work for the church," said Father Gomes.
Pope Francis has declared this year the year of Saint Joseph for Catholics to meditate on the qualities of the saint.
About 200 faithful participated in the celebration, the first to be held in the church after it was named after the saint. - Nikhil Gomez/RVA News