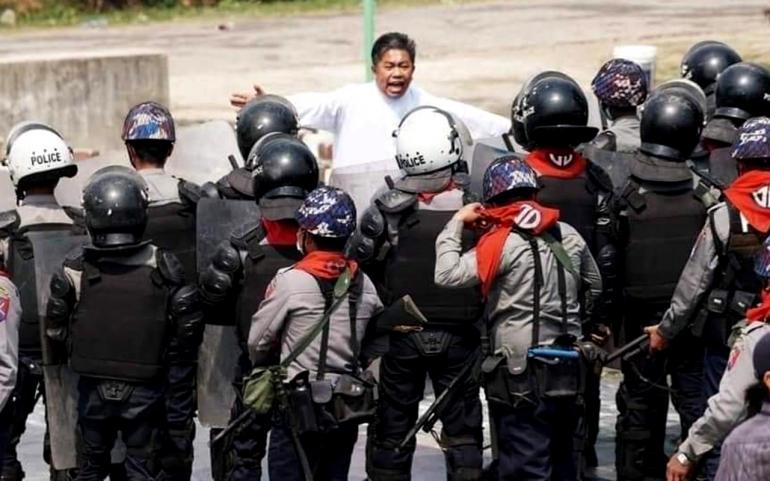 Catholic Church leaders from across Asia have appealed for "peace and reconciliation" in Myanmar as the crackdown against opposition to last month's military coup continued this week.
"Peace, peace. Peace is possible. Peace is necessary," read the statement signed by 12 Catholic cardinals from across Asia.
The statement, signed on March 19 but only released to the media on Tuesday, March 23, was addressed to the country's military, politicians, protesters and religious leaders.
"It is with deep sadness and great distress that we have been following the events in Myanmar," the Church leaders said. 
"There is too much anger, too much violence, too much blood shed, too much suffering and pain inflicted on a peace-loving populace which only seeks unity, harmony, and an opportunity for progress in freedom," they added.
The cardinals said they were adding their voice "in making a fervent appeal to all concerned" for peace in the country.
"Please begin a dialogue to find a solution, a way to go ahead," they said.
They said the image of a religious sister kneeling on the streets of Yangon, pleading for peace has been "etched in the minds of the world."
The video and photographs of Sister Ann Rose Nu Tawng pleading with Myanmar security forces in on several occasions during demonstrations have become viral on social media.
"The people of Myanmar we know are peace loving and only seeking an opportunity for progress," said the cardinals. "They have been law abiding and cooperating with all authorities."
"At the moment they only seek harmony and end to violence," read the statement.
The Church leaders assured Cardinal Charles Maung Bo of Yangon, who has been vocal in his calls for an end to the conflict in Myanmar, of solidarity.
"We are with you. We share your pain and anguish," said the cardinals in the letter. 
"We join you as you lead your people in prayer to God for a speedy resolution of the conflict, and for light to all to see the way towards a solution," they added. 
"Violence is never a solution; force is never a solution. It only gives rise to more pain and suffering, more violence and destruction," read the statement.
The cardinals also called on all religious leaders in Myanmar "to join us in this prayer for peace, in this appeal for peace and in making efforts for peace."
The statement was signed by Cardinals Malcolm Ranjith of Sri Lanka; Oswald Gracias of India; Thomas Aquino Manyo Maeda of Japan; Francis Xavier Kriengsak Kovithavanij of Thailand;
Cornelius Sim of Brunei; Ignatius Suharyo of Indonesia; Orlando Quevedo of the Philippines; John Tong Hon of Hong Kong; George Alencherry of the Syro-Malabar Church;
Patrick D'Rozario of Bangladesh; Baselios Cleemis Thottunkal of the Syro-Malankara Ecclesiastical Traditions; and Louis-Marie Ling Mangkhanekhoun of Cambodia. - Joe Torres for LiCAS.news and RVA News