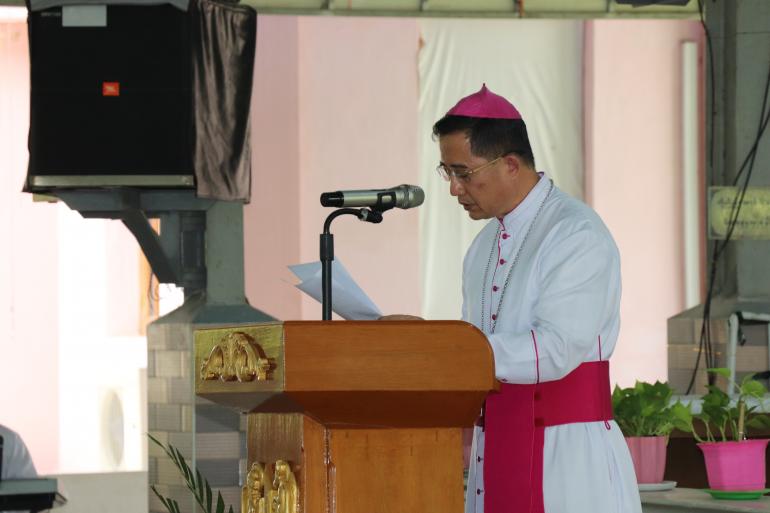 Bishop John Saw Yaw Han, Secretary of Catholic Bishops' Conference of Myanmar (CBCM), and Auxiliary Bishop of Yangon Archdiocese, announced the synodal process to all the faithful in the nation on October 11.
"On behalf of CBCM, may I share a message that coming Sunday, October 17, Catholic Dioceses and Archdioceses across the globe will open the Church's synod," announced the Secretary.
"According to the guidelines of Pope Francis, Episcopal synod will be held on October 17 to October 2023, added the Auxiliary Bishop.
The prelate informed that in the Vatican, Pope Francis himself opened the synod on October 10.
The theme of the synod is "Journeying together."
"Who are journeying together?"
"As parts of the body are important to be one body, to stand as Catholic Church it is necessary that Pope, Bishops, priests, seminarians, men and women religious, and laity are to work together according to each respective role," said the prelate.
The auxiliary Bishop said that "Under the theme of journeying together, communion, participation and mission are guidelines to be reflected in coming synod."
Bishop John informed that the Catholic Bishops' Conference of Myanmar had already sent guidelines and documents to all the respective dioceses and Archdioceses.
"Each diocese and Archdiocese will hold the synod according to its local context," said the Secretary.
Nant Angela Pan Ei Phu said, "As a parishioner, I expect that my religious knowledge will be increased more after the synod has been held."
She added that those who were physically away from Eucharistic celebrations would receive spiritual nourishment.
Nant Rosaline Khaing, a parishioner, said, "I am glad to hear about the synod and will pray for it to be celebrated successfully."
The Diocese of Pathein, located in the Ayewaddy Region lower part of Myanmar, declared its Synodal process to all priests, men and women religious, and laypeople on October 12.
Father Henry Eikhlein, the Diocesan Administrator, informed all the priests in the diocese, "We have formed Synodal Church Working Team (Clergy, Religious and Laity), and we will have the first meeting online as scheduled."