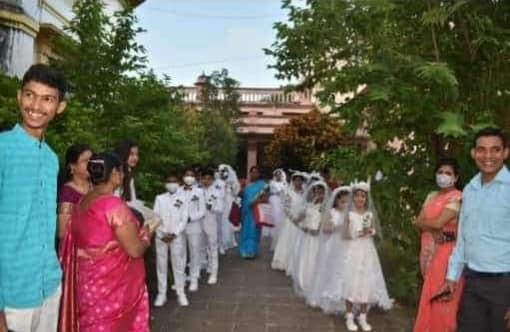 Catholic churches in Eastern India's Bihar state have opened its doors following the easing of health restrictions in the region.
The Queen of the Missions parish, the largest Catholic parish in the Archdiocese of Patna, held First Communion Masses for 96 children in four batches from August 28 to 29, and from September 4 to 5. 
There were 47 girls and 49 boys who received the First Holy Communion.
"Although the lockdown has ended, many of our parishioners are still wary of large gatherings, and they expressed concern over overcrowding in the church," said Father Pius Prashant Michael, SJ, the parish priest.
He said they decided to have smaller gatherings of about 24 communicants and their parents at a time. 
"Of course, all the COVID-19 protocols were followed, such as physical distancing and sanitation of the church," said the priest.
In the Diocese of Bettiah in North Bihar, 22 children received their First Holy Communion in the Church of the Nativity of the Blessed Virgin Mary from Bishop Peter Sebastian Goveas.
"Our parishioners are still grieving over the deaths of so many, and we have to understand their concerns," said Father Michael. - Frank Krishner / RVA News