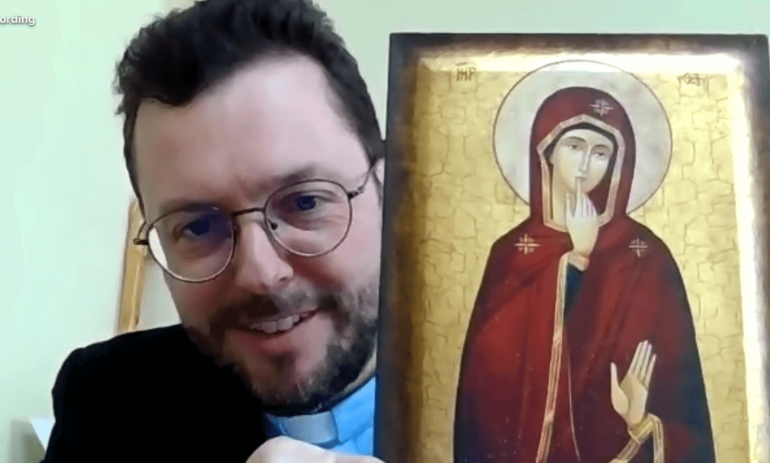 Catholic communicators, journalists and editors are urged to commit to telling the stories of people and the voiceless better than anyone else.
"Communication is always at the heart of the mission of the Church, from St Peter preaching the Good News in Rome to Pope Francis," said Greg Erlandson, director and editor-in-chief of the Catholic News Service. 
He was speaking at the 26th Federation of Asian Bishops' Conferences - Office of Social Communication (FABC-OSC) - annual bishops meet on November 24.
The November 24-25 conference had its theme "Communication for all peoples of Asia: Connecting, networking and information sharing."
As many as 40 participants, including bishops, priests, nuns, and others engaged in communication ministry in Asia, attended the conference.
In his keynote address, Erlandson said, "In today's modern world, communication is the amplifier of the Church's voice which is needed to be heard more than ever." 
Explaining the global perspectives of the Church, world and media, he emphasized that the Church's voice has to be trustworthy, truth-telling, reliable and sometimes, to be prophetic. 
After World War  I and until today, with similar threats to human liberty and human life, the need for the Catholic press to serve as a bond between the Church's leaders and its people remains though the media landscape is fast-changing. 
"As Catholic journalists, we are faced with the challenge to be well trained in our profession and to be well-schooled in our faith," he added.
It is important to recognize that these communication efforts be it print, digital, radio, TV, or social media keep people informed and strengthen the bonds with their shepherds, community and solidarity, explained Erlandson. 
Catholic media must earn the trust of people by being fair and accurate, he said. 
In his talk, Andrea Tornielli from the Dicastery of Communication in the Vatican said there is a great need to communicate real stories by uploading and sharing them on all media platforms.  
Tornielli suggested telling stories about coexistence and to put in the spotlight stories that the mainstream media thinks are unimportant. 
"Effective communication is the way we tell stories of the beauty of the Christian faith, the closeness, tenderness and mercy of God in a way that people will understand."
For him, communication and journalism are tools for evangelization.
He believes that if the Catholic media become a network, it will create the largest and widespread network globally. However, it is challenging to be a network, to think as one, to share information. 
Tornielli also said that social media is a great opportunity for contact and sharing. But it has also become a channel for disinformation and the breeding ground of society's diseases: simplification of reality, opposition, hatred, and what seems to be the need always to have an enemy. 
The Vatican official also stressed that Catholics' role of communication and information is to defend the truth and bear witness in a way that builds bridges and not walls, helping people understand more. 
Tornielli thinks Catholic journalists should be "wounded with reality," avoid being judgmental and be able to tell stories that will touch people.
When asked about the relevance of social communication, he said, "Our task is to be able to share the message and to be more authentic in our communication. Relevance will be a gift that God will give us."
Ludwig Ring-Eifel, the chief editor of Katholische Nachrichten-Agentur (KNA), Germany's Catholic news agency, shared how it reported the issues and concerns of the church over the last 50 years. 
"As Catholic media, publishing stories on reform is to help the Church to be able to fulfill its mission," he said.
Speaking on the use of technology for Catholic media, Ring-Eifel thinks that maintaining the trust and personal reliability is important in celebrity culture. "You have to have faces, names, writers that people can trust; you cannot hide behind the technology."
In his inaugural message, FABC-OSC Chairman Bishop Roberto Mallari said, "The pandemic has made us realize the importance of social communication to establish friendship with each other."
He reminded all participants to connect a real network among Catholic communicators by sharing stories of faith. 
Bishop Raymond Wickremasinghe, a member of FABC-OSC and moderator of the first session, stressed the importance of keeping the global perspective of media while sharing stories of people, especially the poor.   
The second session of the Bishops Meet dealt with the Asian perspectives of Catholic media. 
Addressing the theme "Connecting, Networking and Information Sharing in Asia: Challenges and Opportunities," Father George Plathottam sdb, Executive Secretary of FABC-OSC, presented an overview of Asia, its religions, diverse languages, political ideologies and economic disparities. 
He noted how 'development journalism' originated in the Philippines and that the Asian values in journalism focus on cultural values such as community and respect for elders. 
While media monitors of press freedom paint a gloomy picture of Asian journalism, Asia's editors express that media in the continent are "booming" and how the internet became a medium for everyone's voice. But with that, there are Asian nations that are considered "enemies of the internet."
He also said that covering the Church in Asia is a big challenge. There is a need for more concerted efforts to understand and interpret the issues that concern this vast, diverse, most populated, and least Christian continent.  
"This is where Radio Veritas Asia (RVA), a pan-Asian radio, steps in, and so did the founding of the many Catholic media not only in the Philippines and other parts of Asia," said Father Plathottam.  
While the pandemic has taught the Church how to use communication technology in so many new ways in terms of worship and faith life, he said, "We have learned to connect and communicate."
Catholic journalists in Asia with professional training should tell stories, just like Jesus, who told parables to prove his point. 
"Catholic journalists should be able to tell stories that the mainstream media would give little or no attention to. They should tell stories in a way that will inform people why it is happening and not just know it is happening," said Father Plathottam, a professor of media and communication.
In her message, Dr. Natasa Govekar from the Dicastery of Communication shared about a pilot project, "Faith Communication in the Digital World." It is a vocational training of young communicators in the digital world of Christian media. 
Michael Unland of Catholic Media Council, a consultancy firm in media and communications in Africa, Asia, Latin America, and Europe, mentioned that he heard a colleague say that the news business is dead because of the internet. 
However, we can still see that news-related media still exist and thrive differently but not all in the same way.
"News-related media are much closer to their consumers. They are much more direct providers of media content to use. A journalist is not the gatekeeper of news anymore. Contents on the website will be simply forgotten among the vast ocean of information not unless news-related media makes a way to lead people to them (website)," said Unland.
He suggested that journalists should learn about its algorithms in using social media, know how to interpret user data, and foster partnerships to distribute content. 
He stressed the need to collaborate not because they are forced to do so but because they can agree on common challenges they face together: fake news, division, the need for a voice of peace. 
During the two-day sessions, editors/directors of Catholic news agencies such as Union of Catholic News (UCAN), Licas News, Matters India, Indian Catholic Matters, Asia News and Radio Veritas Asia News shared their origin, mission and vision of news operations.  
Besides, priests engaged in media ministry in various countries of Asia also presented national reports of communication activities.
FABC-OSC, which has organized the annual Bishops Meet for the last 26 years, was compelled to hold the event last year and this year online and on a reduced scale due to the Covid pandemic.
With inputs from Shirly Benedictos and Sr. Ingkie Taboclaon