Church in Bangladesh marks 44th death anniversary of Servant of God Theotonius Amal Ganguly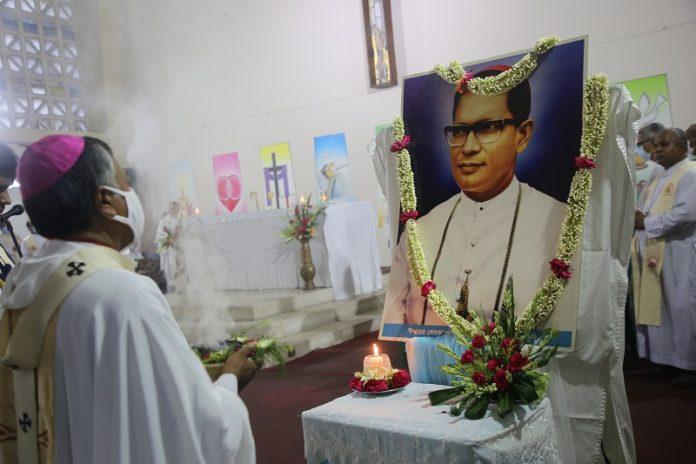 The Catholic Church in Bangladesh marked the 44th death anniversary of Theotonius Amal Ganguly, a Servant of God, at St. Mary's Cathedral Church in Dhaka on Sept. 2, 2021.
In his homily, Archbishop Bejoy Nicephorus D'Cruze of Dhaka said Theotonius Amal Ganguly needs more prayers to be named a saint.
"You keep on praying and preaching. If everyone prays with a heart full of faith, God will hear the prayer," the prelate told the gathering of the faithful.
The archbishop said that if Theotonius Amal Ganguly would be made a saint, "he will be our model of faith and holiness."
"By following him, we too will enter into a deep Christian life and live in holiness," said Archbishop D'Cruze.
 
Archbishop Theotonius Amal Ganguly was born in Hashnabad, present day Bangladesh, on Feb. 18, 1920, feast day of his patron saint, St. Theotonius. 
His family added the Bengali name Amal, which means "spotless" or "innocent" to his name.
After being educated by the Brothers of the Holy Cross at Holy Cross High School in Bandura, Theotonius attended St. Albert's Seminary in Ranchi, Bihard, India. 
He was ordained a diocesan priest in the Archdiocese of Dhaka on June 6, 1946.
In 1947, Ganguly went to the University of Notre Dame in the United States. He graduated with his Doctorate in Philosophy in 1951, making him the first Bengali Christian to receive a doctorate. 
It was the first of several firsts in Ganguly's life and for the Catholic community in Bangladesh.
While at Notre Dame, he came to know the Holy Cross congregation more closely and decided to join it. He attended the novitiate in Jordan, Minnesota, and professed his first vows on August 16, 1952.
On Sept. 3, 1960, Pope John XXIII nominated Father Ganguly as Auxiliary Bishop to Archbishop Lawrence L. Graner in the Archdiocese of Dhaka. 
He was ordained a bishop on Oct. 7, 1960, becoming the first Bengali bishop. 
On July 6, 1965, he was appointed Archbishop Graner's co-adjustor, and when the archbishop retired on Nov. 23, 1967, Bishop Ganguly became the Archbishop of the Archdiocese of Dhaka.
Archbishop Ganguly was known for his religiosity and gentleness as he shepherd the archdiocese through the trying time of  Bangladesh's liberation war in 1971.
A heart attack caused his sudden death on Sept. 2, 1977.
Archbishop Ganguly's Cause for Sainthood was opened by the Archdiocese of Dhaka in September 2006, thereby declaring him a "Servant of God."
The diocesan phase of the cause was closed on April 19, 2018. 
Pope Francis blessed the grave of Archbishop Ganguly at the St. Mary's Cathedral compound in Dhaka during the pontiff's visit in 2017.  - Nikhil Gomez / RVA News