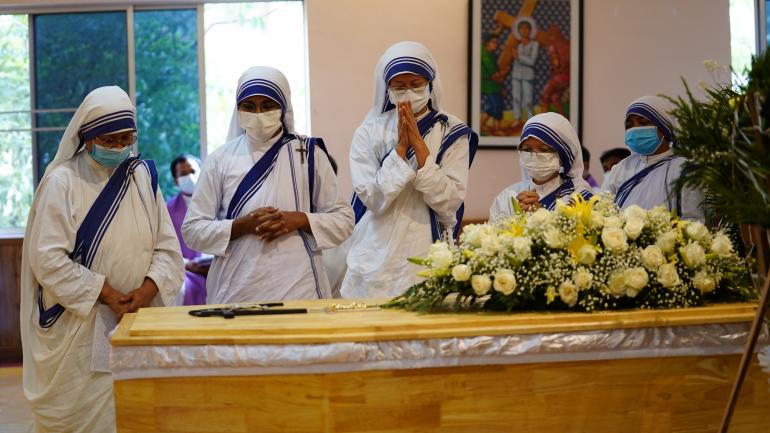 The Catholic faithful in Cambodia paid tribute to Italian missionary priest Toni Vendramin on July 28, 2021, at St. Joseph Church (Psatouch) in Phnom Penh.
Father Vendramin, a member of the Pontifical Institute for Foreign Mission, died in Cambodia early this week. He was 79.
"We pray for his soul in the hands of God," said Father Gianluca Tavola, PIME, in his homily during the funeral, which was attended by a small group of people due to health restrictions.
Father Vendramin first came to Asia in the mid-Seventies and served in Bangladesh from 1975 until his transfer to Cambodia in 1990.
He helped the rebuilding of the Church in Cambodia following the years of the Khmer Rouge regime.
Bishop Olivier Schmitthaeusler of Cambodia said the work of the Italian missionary "helped a lot of people … especially those society has forgotten."
The bishop described the missionary as "a simple man who always puts himself in the service of others."
"He was a man of faith, a man of trust, and a true missionary," said Sister Patina, a member of the Missionaries of Charity.
Father Vendramin was born on Oct. 4 1942, in at Badore, Italy. He was ordained priest on July 2 1969. He arrived in Cambodia on Nov. 29, 1990, upon the invitation of Prime Minister Hun Sen. He was the first PIME priest who arrived in the country.
He then helped improve the quality of education in the country through his work at the Royal University of Phnom Penh II. 
He was also involved in social work, health care, care for people with disabilities, and provided scholarships to deserving children and young people. - Kagna Keo / RVA News