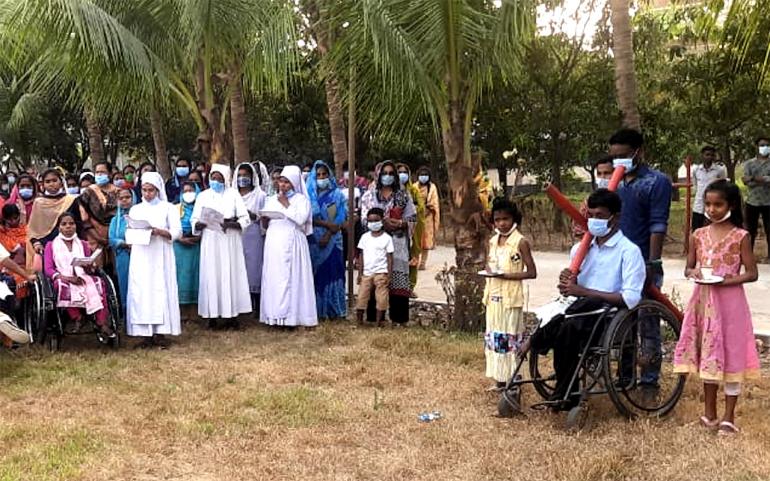 The Diocese of Rajshahi in Bangladesh held a Lenten pilgrimage for persons with disabilities on Friday, March 19, in the diocese's Good Shepherd Cathedral.
One of the participants said the activity, which has become an annual event, is "God's blessing in our life," adding that it made her realize that even people with disabilities are "children of God."
"The Creator cares for us and helps us through various friends. We are eternally grateful to God," said the woman named Niva.
The activity, which was participated by about 120 people, included prayers, talks, the performance of the Way of the Cross, and the celebration of the Holy Eucharist.
Suklesh George Costa, regional director of Caritas in Rajshahi said, Christians as called "to develop an attitude of love and care" for persons with disabilities.
"This is our moral responsibility and duty," added Costa.
Father Paul Gomes, vicar general of the diocese and parish priest of the cathedral, said "it is not right" to ignore people with disasbilities. 
"We should never treat our disabled brothers and sisters badly, but show them love and affection," said the priest.
  
Father Uttam Rozario urged people with disabilities to "never feel inferior" but instead take care of each other. 
He said that if people should help those with disabilities "gain their dignity in the family, society, church and country."
"Our daily duty is to show love to them," said the priest.
There are an estimated 16 million people with disabilities in Bangladesh, or 10 percent of the country's population.
In 2004, the prevalence of disability was about six percent among those below the age of 18 and about 14 percent among those above that age.
People in Bangladesh living with disabilities are entitled to government support, but programs have been limited in scope and restricted to urban areas, and the question of disability has not been integrated into general development programs.
Perceptions of disability among most Bangladeshis remain largely negative, especially in rural areas. Disability is often viewed as a curse brought on by the misdeeds of parents, and is often believed to be contagious. - Nikhil Gomez / RVA News