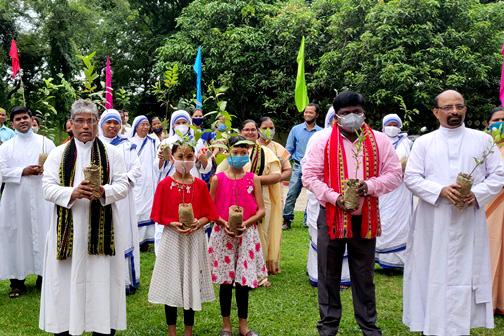 The Diocese of Agartala in Tripura state in northeastern India marked "Green Sunday" on July 4 in response to Pope Francis' call to protect the environment.
The observance was a collaboration between the Catholic Church and the forest department in Tripura state.
"We have been celebrating 'Green Sunday' for the past four years," said Bishop Lumen Monteiro of Agartala. 
He said the diocesan celebration aims to "preserve, protect and promote Mother Earth."
The prelate said the diocese has been planting about 26,000 saplings every year. 
"This year we have planted 9,000 saplings in all parishes," added the bishop.
 
District forest officer V K Jayakrishna joined the bishop in planting a fruit sapling in the parish compound and encouraged people to plant more trees every year.
Jayakrishna cited available data that shows Tripura has 74.49 percent forest cover. 
"In reality, the state's forest cover is well below 30 percent," he told the gathering. 
The celebration took place at St. Paul's Catholic Church in Kumarghat in Unakoti district, the state's second oldest Catholic parish. 
The "Green Sunday" program is the diocese's response to the call of Pope Francis' encyclical on the environment, Laudato si', to care for the environment.
The Kumarghat parish, which is being run by the Holy Cross Fathers, distributed more than 300 saplings to lay people and religious.
"Now is the appropriate time to ensure biodiversity, otherwise we may not be able to revive it in the future," said Bishop Monteiro. - Frank Krishner / RVA News