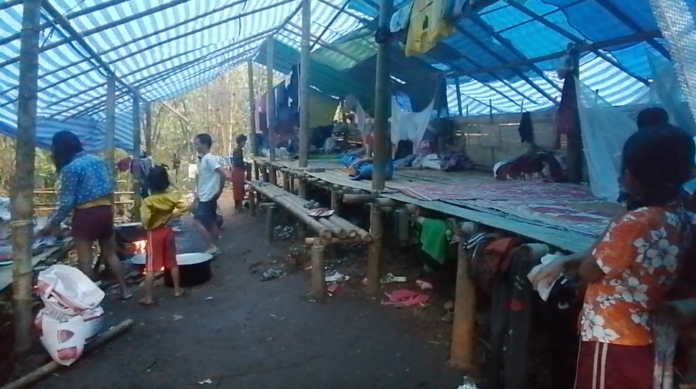 Young people in Myanmar express a sense of hopelessness due to the regional clashing resulting from the military coup.
Catholics, along with other people, are in the midst of regional conflicts.  Under the leadership of Min Aung Hlaing, Myanmar Military seized the political power from the democratically elected government on February 1, 2021. The protest nationwide against the military coup led to the arrest of the peaceful demonstrators.
A young Chin girl, Mai Clare, says that the situation is "like shutting down the future of young people."
"We cannot go forward and do anything," she told Radio Veritas Asia.
Mai Clare stated that her friends, living in remote villages, suffer more than others.
"Due to no internet connection, young people cannot learn anything online, except going to the farms," she said.  As time passes away, Mai Clare feels sad because their ambition for a better future is becoming bleak.
The frustration is forcing young people to make tough choices.
The protesters are joining Ethnic Armed Organizations to fight back the military regime.  The result is an ongoing war-like clash between People Defense Forces (PDF) and the military power, especially in Chin State, the Western part, Kayah State, the South-East area, and Shan State, the Eastern part of the country.
The security forces of the military junta arrest and sometimes brutally kill the opponents. Due to clashes between the military soldiers and PDF, many people in the conflict areas become refugees and internally displaced persons (IDPs).
Young Catholics join IDPs as volunteers to share their skills with others.
Mai Catherine from Chin State said, "Time is running out. I cannot do anything for myself. It is difficult to go forward."
Mai Catherine had to stop studying due to Covid-19 and regional clashes. Apart from her career, she worries about her family.
"Now is the time for young people to focus on their education," Mai Catherine still offers hope when people are afraid that their dream will not come true.
Paula, a twenty-five-year-old girl, studied leadership at the Institute of Formation Fondacia Asia (IFFA) in the Philippines in 2020. She returned in January 2020 to implement her two-year project for the livelihood of youth and job opportunities in the Diocese of Taunggyi in Shan State, Myanmar.
Paula's enthusiasm was crashed when the military coup took over on February 1, 2021. Paul realized that the civil unrest intensified after three-four months in Myanmar.
"I feel hopeless, and with no future. My project is to create job opportunities for young people, but I became jobless. I was upset about it," said Paula, who now is a volunteer in IDPs camp.  
Paula witnessed the killing of young people in the conflict areas.  As young people give up their lives, Paula feels guilty that she could not do anything.
She said, "I could only pray for them." Paula, who was always active and happy, is now depressed and spends most time indoors.
Such are the voices one hears about young people in Myanmar.
"I have lost my dreams. I wanted to do a lot of things. All the plans I made have gone," said Monica, another IFFA's member from the Diocese of Phekone in Shan State.
Monica says, "I feel like I do not have a future anymore. I do not see any hope looking at the present situation."
Monica's plan, like many young people, is disrupted by the military coup.
"The coup and pandemic have wasted my plenty of time," she said. "We do not know how long the revolution will take to end."
Monica feels helpless as she cannot do any meaningful work.
Volunteers in IDPs camp face challenges as a sacristy of resources and a lack of local language skills.
The United Nations Security Council expressed its deep concern about recent violence across Myanmar. The UN called for an immediate cessation of violence and ensuring civilians' safety in a press statement released on November 10.