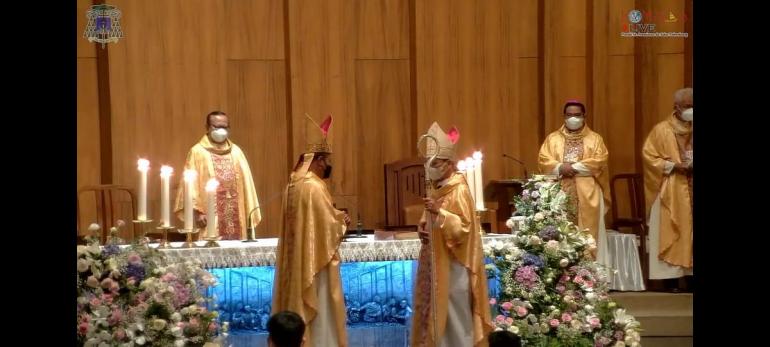 Msgr. Yohanes Harun Yuwono was installed as the new Archbishop of Palembang, South Sumatra Province of Indonesia on October 10. 
For eight years, the prelate was previously the bishop of Tanjung Karang, Lampung Province in Sumatra Island. 
On July 3, Pope Francis appointed him to be the Archbishop of Palembang, replacing Mgr. Aloysius Sudarso SCJ, who has entered his retirement.
Ignatius Cardinal Suharyo Hardjoatmodjo led the installation ceremony of Archbishop Palembang held at St. Yosep Parish, Palembang.   
In his homily, the cardinal hailed the missionary work of outgoing Archbishop Sudarso.
"He (Sudarso) has been through a lot in these 27 years," said the Cardinal Hardjoatmodjo, Archbishop of Jakarta.
"How many kilometers he has traveled in these three provinces (South Sumatra, Bengkulu, and Jambi Provinces) is how many good things he has done. His missionary services certainly bear fruit," continued the cardinal as he appreciated emeritus Archbishop Sudarso.
The cardinal invited all people to be grateful for the services that the outgoing Archbishop has carried out.  
To Archbishop Yuwono, Cardinal Hardjoatmojo invited to grow towards unlimited love in a simple way as the prelate's motto is "Deus Caritas Est" (God is love).
"Love has two meanings, first is the divine love with unconditional characteristic and it belongs to Christ. The second is human love with lots of limitations and conditions," said the cardinal. 
"All of us are invited to have and come approach this divine love," he continued.
The 57-year-old Archbishop Yuwono, who earned his Doctorate in Islam from the Pontifical Arab Institute and the Islamic Studies of Pisa in Rome, was a lecturer of Islam at the St. John School of Philosophy and Theology in Pematang Siantar, North Sumatra Province.
He was born in Wates, Way Ratai, Pesawaran Regency, Lampung, on July 4, 1964, and was ordained a priest for the Diocese of Pangkal Pinang on December 8, 1992.
In his remarks, emeritus Archbishop Sudarso expressed his gratitude, especially in responding to the good news for the Archdiocese of Palembang for the appointment of his successor, Archbishop Yuwono.
On this occasion, he lauded all the people for their generosity to the church, especially during their service in the Palembang archdiocese.
"It was the generosity of the people who encouraged me and the faithfulness that made me grow and mature as a bishop and as a shepherd," said Sudarso.
Meanwhile, in his statement, Archbishop Yuwono stressed the meaningful reflection on how he added his name.
"God is love," said the newly installed archbishop. "In 1992, I wrote to my mother and apologized as I added the name "Harun" (Aaron) to the name she gave me," explains the archbishop.
His decision to add an additional word to his name after being ordained as a deacon was because he wanted to be a priest and not just a deacon and wanted to be a priest forever.
"I wanted to be a holy, devout, and a person worthy of God," stressed the archbishop. "I want to be a priest who supports, carries, who brings all people to God, to salvation—a shepherd who smells the lamb. Shepherd who carries the sheep on his shoulders," he explained.  
Palembang Archdiocese has 27 parishes, two pastoral units, and one quasi parish in three provinces, namely South Sumatra, Bengkulu, and Jambi Provinces.
With an area of 157,000 km, the number of Catholics in the Palembang archdiocese as of 2019 is 80,070 of the 14,217,147 total population of less than 1%.