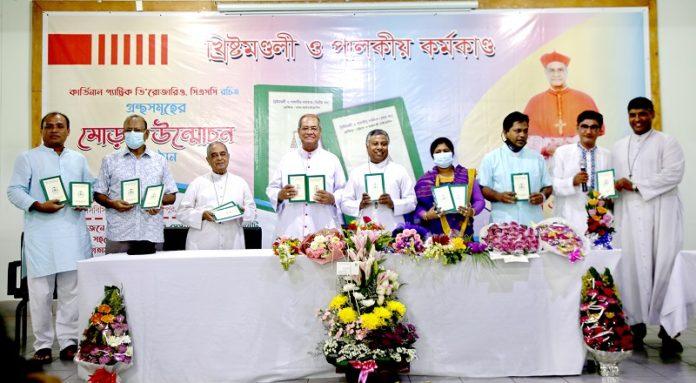 A new book written by Bangladeshi Cardinal Patrick D'Rozario was released by Archbishop of Bejoy N. D'Cruze of Dhaka at the Catholic Bishops' Conference (CBCB) Center in Mohammadpur, Dhaka, on October 1. 
On his 78th birthday, Cardinal D'Rozario, the Archbishop Emeritus of Dhaka, in his two-volume book titled "The Church and Pastoral Activities," expressed his personal experiences, thoughts and pastoral ideas as a church leader.
Archbishop D'Cruze of Dhaka said that "the book offers pastoral guidelines for the Church as Pope Francis has been emphasizing a "Synodal Church" which has communion, participation and mission at its heart."
"Cardinal D'Rozario's book is our most important Church document for the Bangladesh Catholic Church," said Archbishop D'Cruze.
Archbishop D'Cruze notes that the book shares how the Cardinal implemented the teaching of the Second Vatican Council in Bangladesh. The Cardinal "has shared his thoughts, ideas, wisdom and concepts with us to learn," said Archbishop D'Cruze.
The book written in the Bengali language has forty articles divided into six sections. The six sections include (1) Concepts about Universal and Local Church, (2) the Catholic Church and Christian family, (3) Pastoral Plans, Programs, and Pastoral Letters of the Catholic Church, (4) Catholic Church Devotees in the Church, (5) Interview of Archbishop of Dhaka and (6) Evolution of Bangladesh Church and Pastoral Thought.
The Bangla name of the book is "Christo Mondoley O Palokiyo Kormokando."
In the book, Cardinal D'Rozario shares his experiences of becoming bishop of the Rajshahi and Chittagong dioceses and the archdiocese of Dhaka.
Cardinal D'Rozario said that his goal is to help the Bangladesh Church. The prelate aims that book will guide the lay faithful to understand the Church's mission "so that everyone can carry out their own mission works in their mission field."
The book is a collection of the prelate's speeches and essays during his thirty years as a bishop in three dioceses in Bangladesh.
"I have the opportunity to teach about Christ and to provide inspiration, guidance, and planning for pastoral activities," said Cardinal D'Rozario while speaking about the title of his book.
Cardinal D'Rozario was born on October 1, 1943, in Padrishibpur village in Chittagong Diocese and ordained a Holy Cross priest on January 8, 1972.  He was the first priest ordained after Bangladesh gained independence from Pakistan in 1971.
He was appointed the first bishop of the Rajshahi diocese on May 21, 1990. Five years later, on February 3, 1995, he was appointed bishop of Chittagong.
He was appointed coadjutor archbishop of Dhaka on November 25, 2010, and following the retirement of Archbishop Paulinus Costa, he was appointed archbishop of Dhaka on January 25, 2011.
He became the first Cardinal of Bangladesh in 2016 and he retired as an archbishop last year.