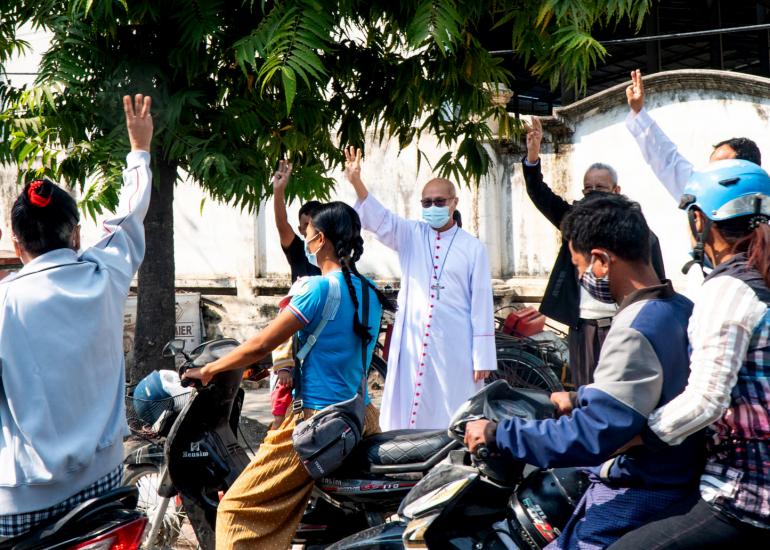 Catholic leaders in Myanmar called on the country's political and military leaders to pursue dialogue amid growing tension in the wake of a military coup last week.
The Catholic Bishops' Conference of Myanmar led a "day of prayer and fasting" for the peaceful resolution of the situation in the country on February 7.
Masses were offered in dioceses and parishes in the country followed by the adoration of the Blessed Sacrament.
"We need dialogue, which is the effective way to solve the problems and our differences," said Bishop Alexander Pyone Cho of Pyay.
The prelate emphasized faith in God "who will help change the country."
"As Catholics, we must trust God and deepen our faith as God can do everything," said Bishop Raymond Sumlut Gam of Banmaw in Kachin state.
He said Catholics need to continue doing fasts, prayers and adoration under the guidance of bishops and to "trust God and deepen our faith as God can do everything."
"We hope that the country's leaders will find the right solution through transparency," said the prelate as quoted in a UCA News report.
Several priests were seen giving the three-finger salute as protesters passed through Mandalay on February 8.
"In unity … we stand with our people, we support non-violent protesters and we stand for peace," read a statement from the Good Shepherd sisters who watched protesters march in Yangon.
The demonstrations marked the biggest show of public defiance over military rule in Myanmar since the 2007 Saffron Revolution. - RVA News