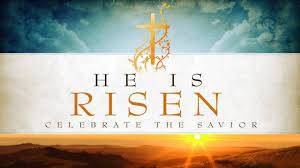 We hear the readings proclaim: "Jesus is alive. God has raised him." This is the apostles' first confession of faith. Beyond all expectations, God has vindicated Jesus. He was not guilty of the crime attributed to him. "He whom you have killed by hanging him on a tree, God exalted him on his right hand" (Acts 5: 30 -31).
As we celebrate Easter, I think of the victims of former Philippine President Ferdinand Marcos's and current President Rodrigo Duterte's violent regimes. I feel for those mothers, orphans, and widows. I have journeyed with them all these years and heard their cries. I know of some friends who tell me how they were tortured during Martial Law. I have also read of mothers who still are longing for their sons and daughters since Martial Law days because their bodies were not recovered. They all want God to vindicate them. In the meantime, however, they can only suffer in silence. 
I went to many of these funeral wakes. There is one thing I noticed in all: there are small chicks on the coffins. One mother explained: "As the chicks eat the grains, their beaks also strike at the consciences of those who killed him." The poor people have nothing. They only have the "chicks" and their prayer for "poetic justice": that God will soon vindicate them. But it is still very dark in their lives.
It was the same experience in the lives of Jesus' followers. Why did God abandon this innocent man? After doing good among the poor, can God just leave him in oblivion—laughed at and mocked by people? Amid our pain, do we just accept the injustice and hide? Where is the kingdom of love and justice?
But all of a sudden, the atmosphere changed. Some women went to the tomb early and were told that the body was not there. "He has risen", they said. The men ran to check, came back, and believed. These were the words used by the apostles: "awakened", "was raised to life", "exalted", "taken him up in glory".
How do we think of Jesus' resurrection?
My first observation: all these are passive verbs. Jesus did not raise himself. God raised him to life. I do not like these dramatic representations of "salubong"* where the resurrected statue crawls out of the cave, as it were, as if opening the door of the tomb by himself, to the tune of Handel's Messiah with the angels singing Alleluia. Jesus did not resurrect himself. He was resurrected. He was vindicated by God.
"The God of our ancestors raised Jesus, whom you have killed by hanging him on a tree. God exalted him at his right hand as Leader and Savior" (Acts 5: 30-31).
In times when the whole world is against us, resurrection is God's vindication of us. The late Filipino lay theologian, Jose de Mesa, calls resurrection "pagbabangong-dangal" (revival). 
"Binabangon ng Diyos ang ating dangal sa pang-aalipusta ng mga masasama" (God raises our dignity to the insults of the wicked).
When the whole world believes in "fake news", in distorted narratives, in hateful messages—of the addict, of the "communist", of the 'lumad' (an indigenous community in the Philippines), of human rights advocates targeted by National Task Force to End Local Communist Armed Conflict (NTF-ECLAC)-resurrection is a vindication of the prophet, a vindication of the truth, vindication of life. It is God who vindicated Jesus. It is God who will vindicate us.
Second, Jesus' resurrection is an act of God because he was truly faithful to the Father until the end. When he thought all things were lost, God found him. When he feels fully abandoned and forsaken, God embraced him. "Where everything is ending for Jesus," one theologian writes, "God is beginning something radically new. When everything seems irremediably lost in the absurdity of death, God is beginning a new creation" (Pagola). This resurrection experience of Jesus is a foundational event for all of us. It is Good News in the depths of our abandonment. If this happened to Jesus, this will also happen to us. "Kaya sa panahon ng kagipitan, kapit lang" (So in an emergency, just fit). Just hold on. If Jesus was the "firstborn from the dead" (Col. 1: 18), and if "God raised him," God "will also raise us by his power" (1 Cor 6: 14).
Third, the risen Jesus was not a ghost. He was not a soul. He was Jesus with the body they can recognize. The Jews could not understand the Greek concept of the "immortal soul" detached from a body. Even if his body was different (he can go through walls and closed doors), he was still a body—he can prepare a meal, he can break bread, he eats and drinks, his wounds were recognizable, etc. Thomas can only attest to it. If Jesus' resurrection is a foretaste of our own, we will not be amorphous "souls" in God's kingdom. We pray in the Apostles Creed each Sunday: "We believe in the resurrection of the body"—Jesus', yours and mine. The everyday spirituality of ordinary Filipino gives us a hint to this. Religious authorities call it "superstitious". But I appreciate it as most human, most humane, and truly Christian. When I was a child I asked my grandmother, for instance, why we offer food on our altars on All Souls Day. She told me: "They are coming back and they need to eat because their journey is long." For as the bible tells us, God's kingdom is a meal for everyone.
Now let me go back to the victims—the Crucified Peoples—of our times. Little by little, the sun rises on their lives. It is still dawn but the light is coming through. Through the help of other people, they begin to stand up again. During the pandemic, their sewing shop gave them jobs. For a time, some children could not even speak. All they had are blank stares. They could not understand what was going on. Now, they can smile again. Joy is a sign of the resurrection.
Some already graduated from high school or college despite difficulties. One of the orphans even earned a Magna cum Laude. The widows are also gaining the courage to testify at the International Criminal Court about the killing of their loved ones. As Lola (grandmother) Remy told me: "They already killed my son. What have I to lose?" Courage is a sign of the resurrection.
They are fighting for justice and living for a new tomorrow. It is Easter. For God is beginning to vindicate His people.
Happy Easter to all. 
[* The "Salubong" is an Easter tradition in the Philippines that reenacts the meeting of the risen Jesus and his mother, the Blessed Virgin Mary, on the first Easter morning. ]
(Daniel Franklin E. Pilario, CM, Vincentian Chair for Social Justice, St. John's University-New York. He is a professor of Theology from Philippines)
---
Radio Veritas Asia (RVA), a media platform of the Catholic Church, aims to share Christ. RVA started in 1969 as a continental Catholic radio station to serve Asian countries in their respective local language, thus earning the tag "the Voice of Asian Christianity."  Responding to the emerging context, RVA embraced media platforms to connect with the global Asian audience via its 21 language websites and various social media platforms.