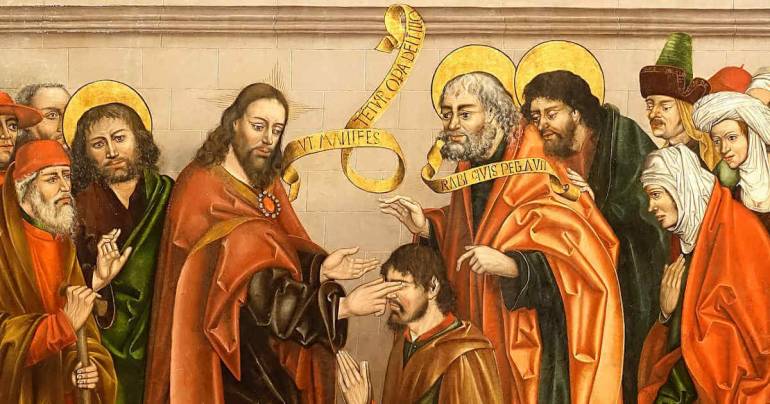 December 3, Friday, First Week of Advent
Daily Readings: Isaiah 29:17-24; Psalm 27:1, 4, 13-14 & Matthew 9:27-31
Today's reading talks about the light of God will open our eyes and hearts to see the truth, justice and mercy of God in our lives.
In the first reading, Prophet Isaiah tells us that the deaf will hear, the blind will see, and the lonely will rejoice in the Lord. The appearance of the Messiah, Christ, is again and again spoken of in terms of light eliminating darkness and sadness as in today's first reading.
There are crowds around Jesus in the Gospel, and the blind men are caught up in the prevailing emotion. They shout at Jesus using a formal title, 'Son of David,' as though he was an influential messianic figure dispensing health to crowds. Jesus waits until he is in the house to meet the blind men in person and question their faith.
The psalm used between today's readings is one of the most uplifting of all the psalms and deserves to be well known and often used. "The Lord is my light, and my salvation" (Psalm 27:1). Today, it is very appropriate when we read of Jesus giving sight back to two blind men who expressed their confidence in him.
Like two blind men, we also need to be opened by the grace of God to see the graces around us. What makes you blind to see the truth, love, kindness, peace and goodness, etc. Think of us also we need to know ourselves. The more we get to know ourselves the more we recognize how blind we can be. We are often blind to our annoying characters. We are blind to the generous and inspiring qualities of those closest to us. We are blind to the signs of God's love and care for us in the world around us.
We are blind to sources of beauty and joy around us. Hatred, anger, selfishness, pride, greediness, jealousy will make us blind to see love, peace, generous heart, humility, selflessness, integrity.
In matters of faith, we are all blind in some way. But, if I allow Jesus to touch my heart, he will help me see more clearly the path I should follow. Jesus is love; if you allow love in your life, you will be able to see the beauty around us.
The blind men had faith in Jesus' power of healing. Did I aware of my blindness and shout to Jesus for spiritual sight. Do I ever experience the inner healing power of God? Love will show you everything.
The blind men remind me of the need to be persistent in my prayer. I thank God for those times when my eyes have been opened and ask God to lead me to appreciate the truth.