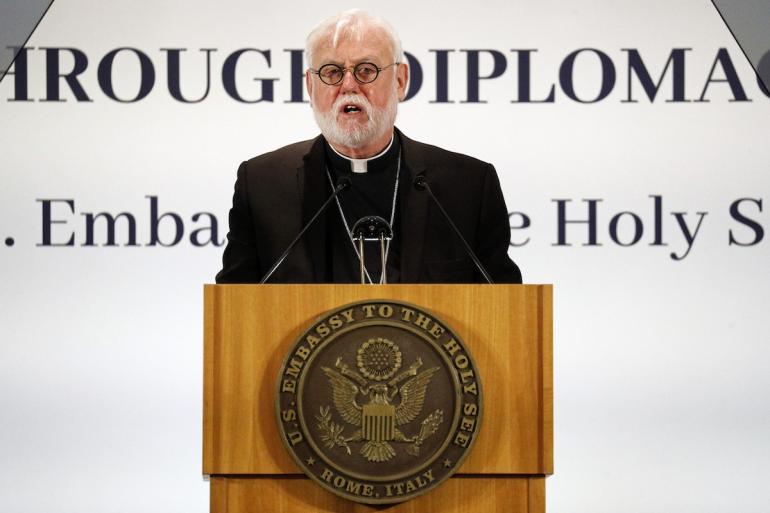 A top Vatican diplomat has defended the renewal of a controversial deal with Beijing, saying that concrete progress has been made over the appointment of bishops in China.
Archbishop Paul Gallagher, who is the Vatican's secretary for relations with states, told Catholic media Crux earlier this week that if Beijing had not been granted a significant role in choosing bishops then very little progress would have been made in the matter.
"We would have found ourselves — not immediately, but ten years down the line — with very few bishops, if any, still in communion with the pope," Archbishop Gallagher said.
"If we don't begin now, that's the future," he said.
The interim deal was signed in China on Sept. 22, 2018 and its details remain secret, but as part of it, Pope Francis has officially recognized eight bishops (one of whom died earlier in 2017) named by the Chinese state that did not have papal approval.
Supporters of the deal hope it will help unify and ultimately protect China's 10-12 million-strong Catholic community that was split in two after the communists created the Chinese Patriotic Catholic Association in 1957.
In the Crux interview Archbishop Gallagher confirmed the Vatican has proposed a two-year extension of the deal. He added that Beijing has not yet responded and that if no answer is received by month's end, then the deal expires.
But the British archbishop said there were no indications that Beijing would not renew the agreement.
Last month China's Foreign Ministry spokesman Zhao Lijian indicated that Beijing  was also eager to renew, saying "the two sides will continue to maintain close communication and consultation and improve bilateral relations."
Archbishop Gallagher said that it was "desirable" for the accord to eventually be made permanent.
The 66-year-old archbishop agreed that the deal's implementation has not been smooth, telling Crux that one reason the Vatican proposed a two-year renewal for now is because, "We're not 99 percent happy about things, we have lots of reservations and lots of things haven't worked out the way we hoped."
Archbishop Gallagher's interview follows growing media attention and criticism over the deal, including from within the Church, most notably by Cardinal Joseph Zen, emeritus bishop of Hong Kong. 
In February, Cardinal Zen warned that the underground Church in China, which has sworn its allegiance to the Holy See, is "doomed to disappear," something he said was being facilitated by the Beijing-Vatican accord. - LiCAS.news