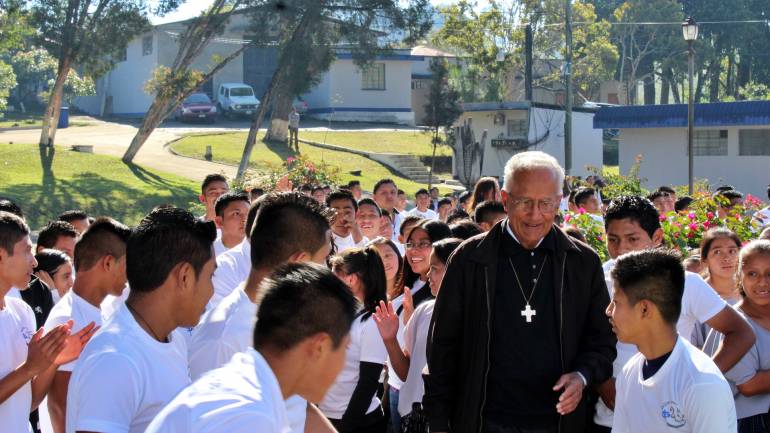 "I think I am the first Salesian from India to work as a foreign missionary 'ad gentes'," said Father Jorge (George) Puthenpura sdb to Radio Veritas Asia.
"I have completed 52 years in one mission living in the same house, all these 52 years," tells Fr Jorge, who was sent to the Q'eqchi' ethnic group of Maya origin in Guatemala in 1970, immediately after his priestly ordination.
Mission among the Q'eqchi' Mayans in Guatemala
Fr Jorge has an interesting story to tell, how a lone Indian Salesian ended up in Guatemala.
On completion of his theology studies at the Martí-Codolar theologate in Barcelona, Spain, he got together with his companions to prepare for priestly ordination, and one proposal was "to offer our priestly first fruits to the Third World."
"I animated them to answer the proposal, however, they were quite unwilling to do so. When I insisted that they should try, I was challenged by them to show if I were able to do what I was suggesting they do. I took the challenge; I wrote a letter to our Superior General offering myself to go anywhere in the world as a missionary. Fr. Luis Ricceri answered me and sent me to the Salesian Mission of San Pedro Carchá in Guatemala."
The Salesians have had a presence in the municipio/district of Carchá, two hundred kilometers north of Guatemala's capital, since 1935. The Salesian mission of San Pedro Carchá has evolved vigorously. Today nine Salesian missionaries work there, providing pastoral care to 438 q'eqchi' villages with a population of nearly 200,000. Fr George reached this mission in 1970.
90% of the people of the Mission are of indigenous Q'eqchi' ethnic group of Maya origin. "They were at that time mostly monolingual, so I had to learn their language. There were no books in Q'eqchi', only the New Testament. However, I learned it quite well because I was sent to the villages to work among them."
Founding an Institute of Women Religious
This is yet another interesting story. Salesian Provincial, Fr. Ricardo Chinchilla, requested Fr Jorge to organize a group of girls as an autonomous native religious community. These girls, , all local and illiterate, with an average age of eighteen, were helping the sisters of Charity (of San Vincent De Paul) who had come to help the Salesians in their mission. The sisters did not know the local language, so the girls were translators for them. The sisters taught them how to read and write, knit and tailor, rear chickens, and so on. When they learned the first letters, they were eager to show them to their fellow illiterate people in their villages.
At first, they were accompanying the sisters. Helped by Sisters, the girls devoted themselves to the study and teaching of catechism. Soon they began to go to the villages by themselves and were very capable of sharing with their people all that they were learning. As soon as they learned something new, they wanted to teach it to their indigenous brothers and sisters.
On September 15, 1977, some of the girls living with the sisters expressed their desire to form a "small community" with the aim of serving their "campesino" brothers and sisters.  They lit an Easter candle and began the experience. It was totally a new experience for them, who lived by this significant motto: "Christ is risen; we, too, will rise with Him". The Paschal Candle became the symbol of the Community. They took the name Little Community of the Sisters of the Resurrection. "Since then, I have been taking care of the group of girls," said Fr. Jorge who is the founder of the Community.
The tiny Community was approved by Bishop Gerardo Flores Reyes as a Diocesan Right Institute of Women Religious on 31st January 1987. On that same day, three of them, who had previously made their vows in private, professed publicly their perpetual vows of chastity, poverty, and obedience, while eleven others made their temporal vows. They are called Sisters of the Resurrection and belong to the Salesian Family from 2004.  The "Little Community" is truly enculturated: they are all indigenous, even if it is not a statutory requirement.
"At first, most of them were illiterate, but this did not prevent them from transmitting a deep and heartfelt cultural richness," says Fr Jorge. "What a miracle, from being simple girls, they became the new indigenous sisters. Right from the beginning, they themselves did their formation. Their joy was to be themselves in such a way that they did not lose their culture." says Fr Jorge proudly.
Fr. George always held in his heart that the natives themselves must be the authentic apostles to their own people. "I could not forget the prophetic words of Leo XIII to India: Oh India, your children will be your salvation".
The Congregation promotes projects of evangelization and the promotion of human values. Their apostolate is to enculturate the Gospel and help their poorest brothers and sisters, especially the young people and women, through catechesis, human and social promotion, literacy programs, health education, family life, domestic economy, agriculture, and trade with small networks of mini-credit groups.
The missionary movement started by the little sisters spread rapidly over the entire territory of the indigenous population. There are 11 communities in the two dioceses and two vicariates of the region, with the majority from the Maya Q'eqchi' people, one of the main ethnic groups of indigenous people of Guatemala.
By 2023, the "Little Community" is composed of 63 professed, 14 novices, 10 postulants, and several aspirants, all indigenous of different ethnicities. Together with their lay colleagues, the sisters of the Resurrection serve the almost 600,000 Q'eqchi'.
A handful of Sisters managed to evangelize thousands of young people and train them to be apostles to the children and to their own companions.
Jorge and Pastoral work
While forming this little congregation, Fr Jorge has been dedicating himself to the pastoral mission. Until two years back he was in charge of organizing the pastoral work for the whole mission.
"I have written little books for the catechism. A six-volume catechetical textbook was translated from Spanish to Q'eqchi'. I wrote down in the Q'eqchi' language, the lives of saints like Don Bosco, Dominic Savio, Anthony of Padua, Katerí Tekakwitha, Zeferino Namunkurá, Joselito Sanchez, and others."
In each village, the Catholics are organized in little communities (pequeñas comunidades) of 5 to 10 families who get together every week and study their religion with the help of little catechism booklets and the lives of saints. The sisters run the communities and take care of all the Catechism for children, youth pastoral, and families apostolate.  "This manner of working was put into practice in our mission, first in one area, then today it is spreading fast in the mission and in four dioceses where there are Q'eqchi' speaking people".
What is really doing a great pastoral job are the Sunday Schools. In 2022, there were more than 27,000 Sunday School children. Sisters of the Resurrection The Sisters of the Resurrection are specialized in giving Catechism to village children and the parish priests (religious and diocesans) entrust all the catechetical organizations to the sisters because scarcely any priest knows the local indigenous language.
How do these few once-illiterate sisters do all these things? That's a big question that can be easily answered. Not one sister takes a catechism class. They prepare formators, which means the sisters are trainers of trainers. Just an example: 27,000 children are being catechized by less than 20 sisters with the help of over 4 thousand young catechists. And how do they form four thousand catechists? With the help of hundreds of laypeople who train the catechists. They work in complete collaboration with the laity in their organizations and in Pastoral work.
Fr Jorge is also dedicated to social work. Recently he has been building houses for the people who lost their dwellings during the cyclones ETA and IOTA in November 2020 which devastated houses and fields. He is also helping people to build their village chapels.
"Hogar Pope Francisco"
San Pedro Carchá Salesian Mission had started a home on the outskirts of the town for the minors in the early eighties, but the Congregation was later forced to suspend its services. However, on seeing the need for such a center for the local population, the Sisters of the Resurrection reopened it on July 28, 2014, under the name "Hogar Papa Francisco (Pope Francis Home)" which takes care of malnourished people and the needy. Mgr. Nicolás Thevenin, Apostolic Nuncio in Guatemala, and Msgr. Gerardo Flores, bishop emeritus of Verapaz, took part in the event. Currently, the house can accommodate up to 50 people with their respective companions.
The Home welcomes people in need in two ways: a permanent care center that is offered to elderly abandoned people; and temporary assistance for those recovering their health because of some illness. Both forms of assistance are free of charge. Direct and individual assistance and care are offered by the sisters. They provide help in the administration of medicines, meals, pre-and post-natal care, post-operative convalescence, and transfer of patients to public hospitals or clinics.
Talita Kumi
"Talita Kumi", which in Aramaic means "Little girl, I say to you, arise!", is a foundation established for the promotion and training of women of the Q'eqchi ethnic group. For a long time, they were victims of discrimination.
"Talita Kumi" Foundation, a non-government organization founded by the sisters, represents the inspiring expression of a pastoral educational project applied in the Salesian mission of Carchá, Guatemala. For years "Talita Kumi" has been promoting the leadership and empowerment of thousands of indigenous women and it has extended to the districts of Quiché, Izabal, Petén and Alta Verapaz. In their three educational Centers, the sisters continue, with the Salesian Spirit and method, to form hundreds of indigenous and peasant girls and boys, making them true evangelizers and catechists, capable of bringing sociocultural change to their communities.
Mesoamerican University for young indigenous people
 "A companion of mine, a Salesian from Australia, put up a literacy program in nearly 850 villages all over the Q'eqchi' region. Today it has developed into primary schools, high schools, and a University College," tells Fr Jorge.
Although there are several university facilities in the neighboring cities of Cobán and Chamelco, Fr. Puthenpura sensed that an offer of higher education would cover the needs of the region. As most of the population lives by working the land and cultivating their fields and farms, no one could imagine that the university level might attract young native students. The Salesian Mesoamerican university of Guatemala (UMES) in the capital city extended a branch to the Talita Kumi organization in Carchá in 2015 with 41 local students.
The Mesoamerican University in Carchá began offering courses in Pedagogy; the following year, it added Educational Administration and Educational Sciences; in its third year, the faculties of Social Work and Bilingual Primary Education were opened; and the Agronomic Engineering course in its fourth year.
On Saturday, 14 July 2018, the first four university students at the new Mesoamerican University in Carchá graduated in Educational Administration. Fr Jorge considers July 14, 2018, as a historic day for his adventure in higher education.
Surprisingly, the University opened in 2023 with 838 students almost all q'eqchi', more than half of them young women. Half of the 838 students are doing Agronomic Engineering!
The philosophy behind this innovative project of higher education is based on the Salesian spirit, which is oriented to the human and Christian promotion of young people. All these educational institutions including the college are run by the sisters. The sisters transformed themselves from illiterates to graduates with BA, B Ed, and BCom!! One sister has finished her Licentiate in Management.
A Little Bio of Fr Jorge
Fr Jorge is a Salesian from Guwahati Province, (when there were only three provinces in India: Calcutta, Guwahati, and Madras).
He was born at Poovathodu, near Bharananganam. His parents were Sebastian Puthenpura and Anne Alakulam. He was the third of their six children.
While he was studying at St. Mary's School in the second form in Bharananganam, a Salesian from Sonada Darjeeling, Fr. Patrick Sheehy, came there with the mission of recruiting boys for the aspirantate at Bandel. He was just 12 years old and was selected to go to Bandel where he reached on 8th April 1954.
He did his novitiate at Sunnyside and professed on 26th April 1960. After the Philosophy course at Sonada and Practical Training at Sunnyside, "I was sent by the Provincial Orestes Paviotti to do my Theology in Barcelona, Spain, in the Martí-Codolar theologate."
His Latin American missionary saga began immediately after his ordination. He has inspired many Salesians from India to opt for foreign missions in Africa and America.
"Looking back on my long life, I can only thank the Good Lord for all that He in His Divine Mercy has done for me and in me, and through me with the humble poor Q'eqchi' indigenous people of Guatemala." With the Holy Virgin Mother of Jesus, Fr Jorge praises the Lord saying: "He has done great things for this People."
---
Radio Veritas Asia (RVA), a media platform of the Catholic Church, aims to share Christ. RVA started in 1969 as a continental Catholic radio station to serve Asian countries in their respective local language, thus earning the tag "the Voice of Asian Christianity."  Responding to the emerging context, RVA embraced media platforms to connect with the global Asian audience via its 21 language websites and various social media platforms.