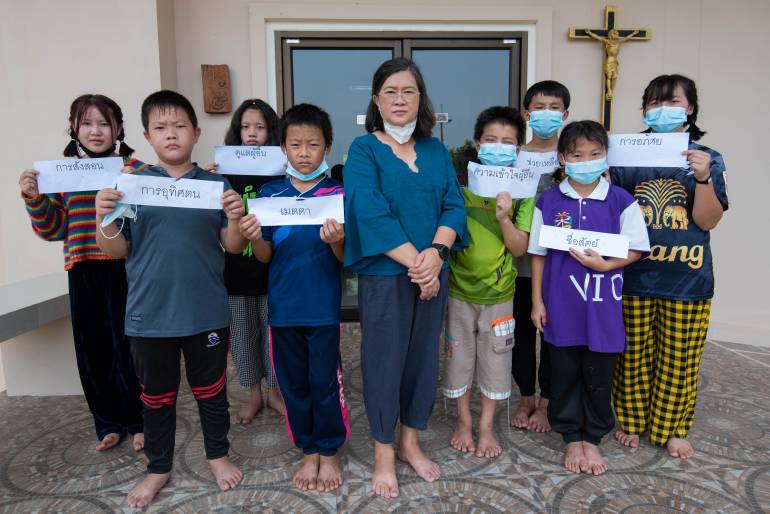 Thai Buddhist people's lives revolve around a simple word: "Thambun" (ทำบัญ) which means gain merit. 
The pious Buddhist people fulfill this tradition by giving part of their money to the temple untrusting the monks the responsibility to use them. 
In Thailand, it is not rare to see big monasteries that show the generosity of the people.
It is less common, but not unusual, to meet wealthy people who donate generously to some charity organization too. But what is rare is to see the personal commitment of the Thai people to charity work. And this is true not only for the Buddhists but also for the Catholics. 
This is the reason why Kun Succitra's story is so appealing.
Kun Succitra, whom everybody calls Kruu Neang, is a middle-aged woman.  
She is a wealthy lady who decided to spend her life for the poor Hmong children at Our Lady of Perpetual Help in Phetchabun province, near Chiang Mai, a city in Northern Thailand.
She is from a Catholic family and received baptism when she was still a child. 
Faith has always led her life together with the desire to commit herself to something important, says Father Domenico Rodighiero, a missionary in Thailand. 
Kruu Neang grew up with her mother in Chiang Mai where she attended primary and secondary school in a girls' institution. 
After completing high school, she chose to study accounting at Mahasarakham University in Maha Sarakham Province, about 470 kilometers from Bangkok, the capital of Thailand.
The aim was to be ready to take care of the family business.
She realized that she was gifted in her studies. So after graduation, she went to England for a master's degree. Later, she continued with a doctorate in tourism and hotelier. 
When Kruu Neang came back to Thailand she wanted to take care of the family hotel, but the time had not yet come. 
She was asked to teach at Mahasarakham University to pay off the school debt first, but she stayed there for 11 years. 
Although she enjoyed being a successful university teacher, the desire of serving others was still alive in her. That is why she joined a secular missionary institute operating in Thailand founded by a Canadian Oblate of Mary Immaculate priest.  
The years of teaching kept her in touch with young people and their needs. 
She sharpened her empathy and learned how to communicate with them in the difficult process of listening and find the right time to speak and counsel them. 
She discovered that being a teacher was not only a matter of transferring knowledge but much more an educational relationship.
Teaching at the public university was not, nevertheless, her long-life commitment. After some serious health problems, she decided to early retirement. 
She was only 49 then. Maybe it was really time to take care of the family business in Chiang Mai, she says. 
But "life does not always proceed as we plan," she added. 
A slew of events took a different course from time to time. 
"I was taking a period of rest in my father's house in Phetchabun and on Sunday I join the Mass at the local parish," she said.
After the celebration, she talked with the young parish priest. She told him her story and he invited her to help him at the youth center he was taking care of. 
"This proposal came out of the blue, I did not know Our Lady of the Perpetual Help Center nor why the children were there. But the suggestion matched with my deep desire to do something important for others as I had been thought from my childhood," she recalled.
Kruu Neang taught the children for three months. She left her father's house early morning and returned in the evening. She discovered that there were more or less 25 Hmong children at the Center—male and female, from the age of 5 to 15. 
They came from poor families where the parents had to work all day in the fields. 
Their education was untrusted by their old grandmothers that, obviously, had not the strength to take care of them. 
In some families, the siblings were too many and there was no way to feed them all. The lack of resources and affection was the reason why some of the children suffered from psychological disorders too.
The priest in charge of the Center worked almost alone because he could not find people to help him. 
He could have accepted fewer kids, but he did not dare to refuse to welcome children in such a condition. 
"For me was like a calling," said Kruu Neang, "after three months I decided to live with the children and help Father June full-time," she said.
In the beginning, it was quite difficult; she had to gain their trust and respect. She had to help them to accept a sort of orderly common life with schedules and commitments. This was maybe the most difficult thing, but in the end, the children accepted me and the new lifestyle so everything became easier.
"I have been working at Our Lady of Perpetual Help Center for two years now, I live with the kids and I share in all their challenges and aspirations," she said.
"We try to give them an opportunity in life according to their ability, but more importantly, we want to make them feel that somebody cares for them," she added.
This work is very challenging for her also because her health conditions are not perfect, but she loves these children and she is happy to serve them. 
"I am sure that my old desire of doing something important in my life is now a reality at Our Lady of Perpetual Help Center and this is what God wants me to do," she said. 
Kruu Neang is a gift of God for the kids and a clear sign for the generous Thai people.
"'Thambun" is a beautiful and important practice in Thai culture, but personal commitment is essential if we want to address difficult issues," she said. 
From the moment she arrived at the Center many things have changed in the heart and in the lifestyle of the children, now they are much more integrated into social life than they were before, and able to accept the rules of this life too. - With inputs by Rodighiero Domenico
---
Radio Veritas Asia (RVA), a media platform of the Catholic Church, aims to share Christ. RVA started in 1969 as a continental Catholic radio station to serve Asian countries in their respective local language, thus earning the tag "the Voice of Asian Christianity."  Responding to the emerging context, RVA embraced media platforms to connect with the global Asian audience via its 21 language websites and various social media platforms.