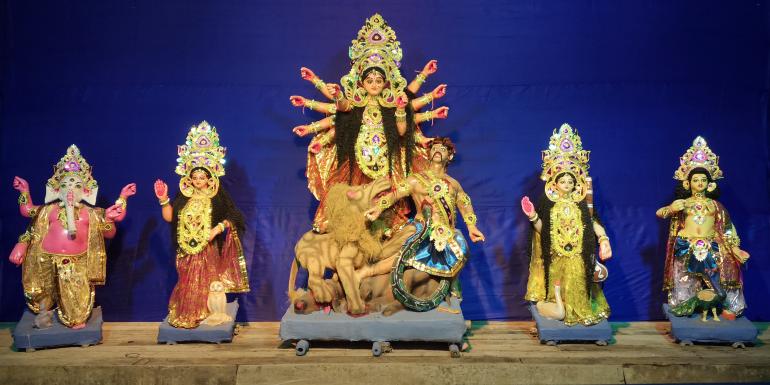 The Bengali speaking community, especially the Hindus in West Bengal, India, and Bangladesh, celebrated the Durga Puja festival this week.
The celebration, which started on October 23 and ended on October 26, was different this year due to the coronavirus pandemic.
In West Bengal, the Kolkata High Court restricted the celebrations.
Places of worship have been declared "No Entry Zones" except for a few selected members of worship committees who were allowed to go near the goddess Durga.
The West Bengal State Government have also allotted a budget for the purchase of masks and sanitizers that were distributed to the public.
"Most of the children are mentally depressed. So, this year we are not happy," said Shuvra Pal, a housewife who complained about the ban to go outside.
The Durga Puja is an annual Hindu festival that originated in the Indian subcontinent that pays homage to the Hindu goddess Durga.
It is particularly popular and traditionally celebrated in the Indian states of West Bengal, Assam, Odisha, Tripura and Bangladesh, and the diaspora from this region, and also in Mithilanchal regions of Bihar and Nepal. 
The festival is observed in the Indian calendar month of Ashwin, which corresponds to the months of September–October in the Gregorian calendar.
The puja is performed in homes and in the public, the latter featuring temporary stage and structural decorations (known as pandals). 
The festival is also marked by scripture recitations, performance arts, revelry, gift giving, family visits, feasting, and public processions. 
As per Hindu scriptures, the festival marks the victory of goddess Durga in her battle against the shape-shifting asura, Mahishasura. Thus, the festival epitomizes the victory of good over evil, although it is also in part a harvest festival celebrating the goddess as the motherly power behind all of life and creation.
Over the years, Durga puja has become an inseparable part of Indian culture with innumerable people celebrating this festival in their own unique way while pertaining to tradition. - RVA News