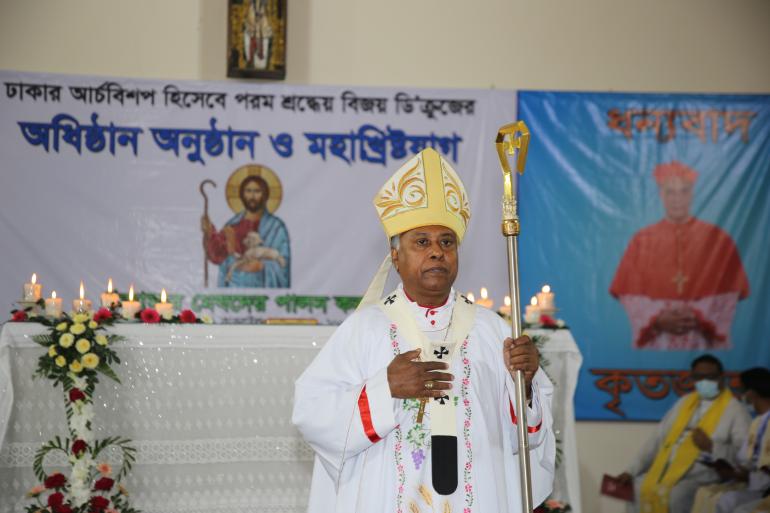 The new archbishop of the Archdiocese of Dhaka in Bangladesh vowed to press for solidarity and dialogue during his installation at Dhaka's St. Mary's Cathedral on November 27.
"The Church should become a communion, fraternity of believers, and unity would prevail in all circumstances," said Archbishop Bejoy Nichephorus D'Cruze, new prelate of Dhaka.
In his homily during the celebration, Archbishop D'Cruze vowed to promote unity, solidarity and dialogue in the community.
"This is a must as we worship and follow the Trinitarian God — a communion between the Father, the Son and the Holy Spirit," he said.
"Jesus has brought together and forged unity among various races and nations with His Holy Blood. We are called to be united in the same fraternity," added the new prelate. 
"This unity and communion can bring for us the heavenly blessings, joy and peace," he said.
He reminded the faithful that Christianity is a universal religion for dialogue with other faiths and the welfare of humanity.
"Christianity is a universal religion. It has an enormous heart and it has been sent to all ethnicities and nationalities for liberation and atonement," he said.
"Thus, we accept all with an open heart, have dialogue of faith and forge harmony. It is because we believe all people have been created in the image of God," said the archbishop.
About 500 people attended the installation and reception program.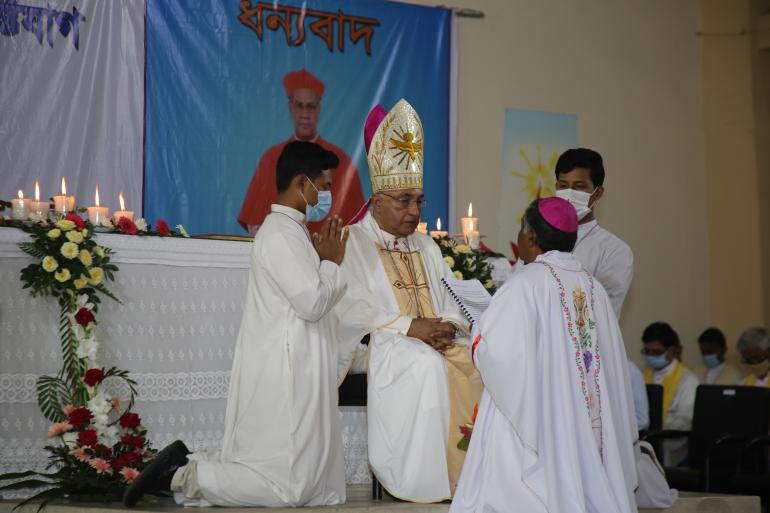 During the event, the faithful honored Cardinal Patrick D'Rozario who served the archdiocese since 2011.
"I am unworthy and incompetent, yet God has chosen me to be a shepherd," said Archbishop D'Cruze, who is taking charge of the country's oldest and largest diocese.
Pope Francis appointed Bishop D'Cruze new archbishop of Dhaka on September 30 following the retirement of Cardinal D'Rozario, who recently reached 77. 
The pope extended the term of the country's first cardinal by two years in 2018.
Archbishop D'Cruze is the first Oblate prelate of Bangladesh, the 11th bishop and sixth archbishop of Dhaka Archdiocese.
Born on Feb. 9, 1956, in Puran Tuital village of Dhaka district, Archbishop D'Cruze was ordained Oblate priest in 1987. 
He studied theology for a licentiate degree from the Pontifical Gregorian University in Rome from 1990 to 1992 and obtained a doctorate degree in 1999. 
He served as director of the Oblate Juniorate in Dhaka from 1993 to 1996 and from 1999 to 2000. He also taught theology at Holy Spirit Major Seminary for years.
He served as the delegation superior of the Oblates in Bangladesh from 2001 to 2005.
On Feb. 19, 2005, he was appointed bishop of Khulna Diocese and served there until 2011. He became the first bishop of Sylhet Diocese when it was separated from Dhaka Archdiocese in 2011.
He is president of the Catholic Bishops' Conference of Bangladesh and chairman of the conference's Commission for Christian Unity and Inter-religious Dialogue. - Nikhil Gomez / RVA News