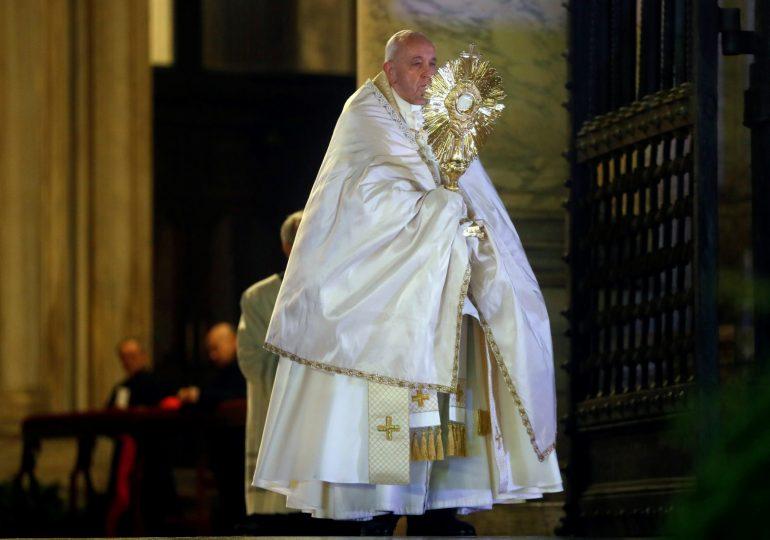 One of the prominent images of Pope Francis in 2020 was of him standing alone in front of St. Peter's Basilica, on the cold, dark evening of March 27, 2020 — at the peak of the coronavirus pandemic in Italy. 
The pope reminded the world and its inhabitants that "no one is saved alone" and assured people that Jesus is with us in the boat in the midst of this stormy sea.
Francis, through his words and gestures, has given consolation and hope to countless people suffering worldwide — and not just to Catholics. 
He celebrated daily Mass for several months in the chapel of the Santa Marta where he lives. The celebrations were live-streamed on television. Millions of believers around the world followed online. 
He instructed the Vatican to send protective masks to the people of Wuhan, and also sent protective equipment and respirators to several poor countries. 
The pope had his medical and social workers asked all Vatican-based cardinals and bishops to contribute to a fund to help the poor, and he arranged for Caritas in Rome to join the city's civil authorities in establishing a fund to help those in greatest need there.
He set up a special task force to address the pandemic and its aftermath, advocating that the post-pandemic world order address the needs of the poor, the marginalized, and those with precarious jobs and to ensure them greater security in terms of employment, housing, health care and education.
Being attentive to the instruction and guidance of Pope Francis, church people and all the people of Goodwill should take part in these voluntary tasks to heal the World.