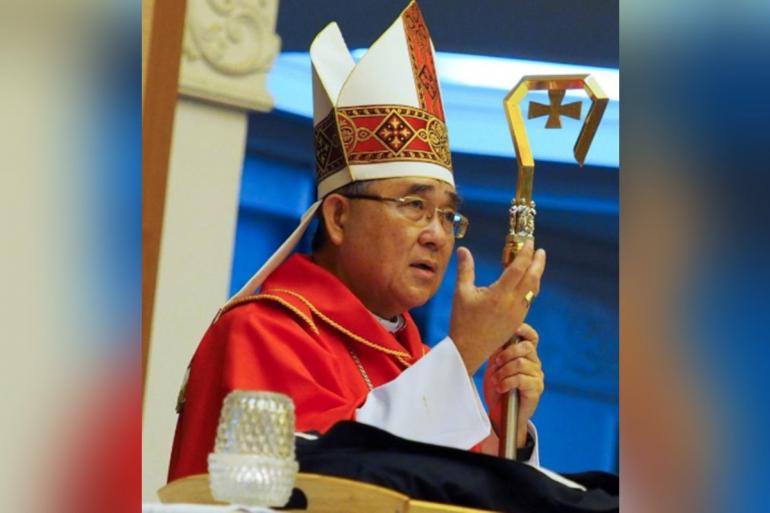 Pope Francis has named Bishop Cornelius Sim of the Apostolic Vicariate of Brunei Darussalam the first Catholic cardinal of one of the richest and smallest countries in the world.
Bishop Sim is among the 13 new cardinals, and one of two from Asia, who will be elevated to the post in the Catholic Church on Nov. 28.
The Apostolic Vicariate of Brunei Darussalam is part of the Bishops' Conference of Malaysia-Singapore-Brunei.
Bishop Sim, who heads the apostolic vicariate of 21,000 Catholics and has four priests in three parish churches, will also become the first cardinal from the Island of Borneo.
Considered one of the youngest and smallest "dioceses" in Southeast Asia, the Apostolic Vicariate of Brunei is a steadily thriving Church with growing spiritual activities in its communities.
The Catholic faith was brought to Brunei by Franciscan missionaries in 1587 but the local Church was only established in 1997.
In an interview with the Catholic News Agency, Bishop Sim said the vicariate "have projects to empower and sustain the missionary dimension of the Church."
"We are one of the smallest dioceses in Asia," he said, adding that with only one bishop and three priests, "we hope to have vocations to the priesthood and religious life."
Brunei is a country of 2,200 square miles located entirely on the island of Borneo, which is also home to parts of Malaysia and Indonesia.
It is a developed country, and one of the richest in the world. Malay is the official language, but English and Chinese are both widely spoken.
The country is an absolute monarchy led by Sultan Hassanal Bolkiah. About two-thirds of the population is Muslim, and Brunei was recently noted for its adoption of Sharia, though it is being applied only to Muslims.
About 10 percent of the population is atheist, 13 percent is Buddhist, and a small number have indigenous beliefs. Christians, half of whom are Catholic, constitute 10 percent of Brunei's population.
Bishop Sim said the "substantial Filipino congregation" in the country "makes our Church very lively."
"They bring their faith, with popular pious devotions, and they enrich us and our faith very much," said the prelate in the CNA interview.
Ordained in 1989, Bishop Sim is the second local Catholic priest who entered the priesthood as a "late vocation."
The 69-year-old prelate, who is of Chinese and Dusunic descent, was born in Seria, Brunei, on Sept. 16, 1951, and studied engineering at the Dundee University in Scotland.
In 1988, he earned his master's degree in Theology at the Franciscan University of Steubenville in Ohio.
In the same year, he returned to Brunei and served as administrator of St. John's Church in Kuala Belait.
He was ordained deacon on May 28, 1989, and a priest on Nov. 26 that year. He became the vicar general of Brunei in 1995.
On Nov. 21, 1997, Pope St. John Paul II designated him as prefect of the Apostolic Prefecture of Brunei, and in 2005, he received his episcopal consecration. - LiCAS.News