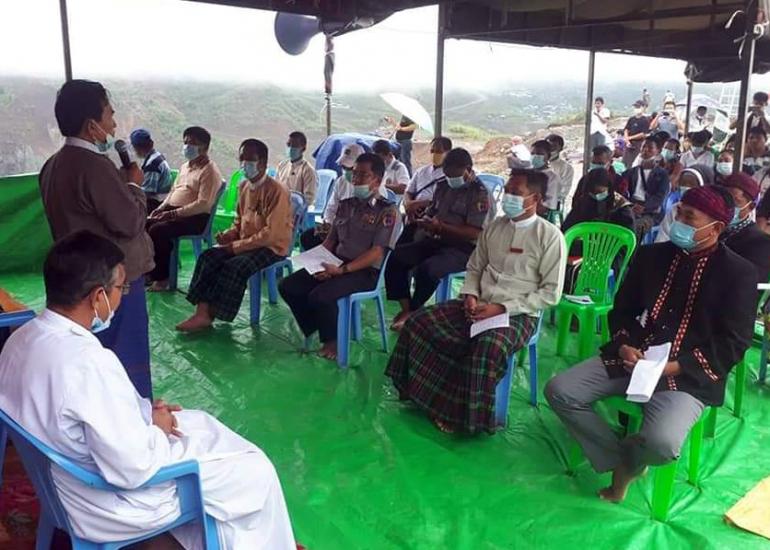 Leaders of Christian groups in Myanmar held an ecumenical prayer service on July 8 for the victims of the landslide that killed almost 200 people at a jade mine in the country's northern Kachin State.
The local government of Kachin State organized the prayer activity, which was attended by leaders of Christian denominations in the area.
About 30 government leaders, police officers, church leaders and representatives of various religious denominations attended the activity.
Each of the religious leaders share prayers and reflections on the incident that affected hundreds of families in the area.
Earlier, Cardinal Charles Maung Bo of Yangon blamed "greed" and "injustice" for the landslide.
"Those who died were not only buried under a landslide of the mountain but by the landslide of injustice," said the prelate.
"Those who perished were sacrificed on the altar of greed, by utter negligence, and arrogance of companies that continue to dehumanize the poor of this land," said the prelate.
The prelate said that as people lost their livelihood due to the pandemic, "this mine tragedy is a grim reminder of the need for sharing God given natural treasures."
"The treasures of Myanmar belong to the people of Myanmar," he said.
Cardinal Bo said it was not the first time the "this merciless tragedy" happened.
"If the relevant stakeholders do not respond with compassion and justice, this will not be the last time of this inhuman tragedy," he said.
As he commended the "prompt response of authorities" to the disaster, Cardinal Bo called on the government and other stakeholders "to ensure that such tragedies do not repeat."
"This land is blessed with natural resources to provide for all. Let this be the last tragedy," he said.
He also called on the people to "strengthen our resolve to bring economic and ecological justice" to everyone.
Bishop Francis Daw Tang of the Diocese of Myitkyina also expressed his "heartfelt condolences" to the victims of the tragedy.
"We hope a better ecological justice will be done to the poor and the most vulnerable of our society in this region," he said.
The landslide was triggered by heavy rains and swept through the site in the jade-rich area of Hpakant Township in Kachin State.
Reports said landslides and accidents have become common in Myanmar's mines that are located in remote jungles.
In 2019, more than 50 workers were also buried in a mudslide at another jade mine in Hpakant.
In 2015, at least 113 people were killed when a hill of tailings from a jade mine, also in Hpakant, collapsed onto the huts of workers.
Myanmar produces about 70 percent of the world's jade, and Hpakant is home to the world's largest jade mine. - RVA News