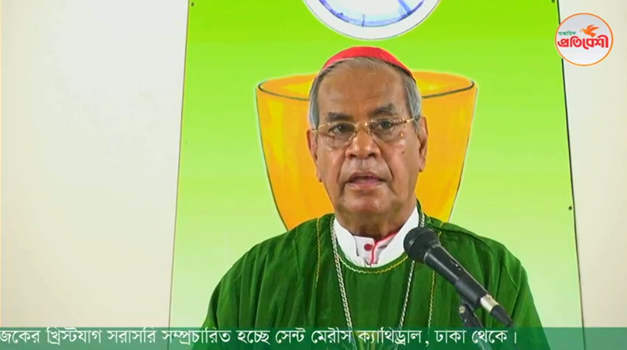 Cardinal Patrick D'Rozario, retired archbishop of Dhaka, expressed his gratitude to the people of Bangladesh for their support during his three decades as head of the Catholic Church of the capital.
"My retirement … made me extremely delighted," he said, adding that the occasion "has also filled my heart with gratitude."
The prelate concelebrated Sunday Mass at St. Mary's Cathedral on October 4 and congratulated newly appointed prelate, Archbishop Bejoy Nicephorus D'Cruze.
He urged the faithful to pray for Archbishop D'Cruze "so that he can sanctify, educate and lead Dhaka Archdiocese following the footsteps of Good Shepherd Jesus Christ and can get abundant grace and blessing from God." 
Pope Francis accepted the resignation of Cardinal D'Rozario on September 30 and appointed Bishop D'Cruze of Sylhet Diocese as the new head of the Archdiocese of Dhaka.
Cardinal D'Rozario led Dhaka as its 10th bishop and fourth local bishop since Dhaka Diocese was erected in 1886. It was elevated to an archdiocese in 1950.  
"In communion with you all, I have realized God's love and directions in the past years. We have received blessings from God in abundance and we thank God for everything," Cardinal D'Rozario said.
"Personally, I am grateful to the current and previous popes. They have loved and trusted me, and thus they have entrusted me with responsibilities of three dioceses in the past 30 years. They have directly and through their representatives, have supported me to carry out my duties.
"I also thankfully remember the contributions of my brotherly bishops of the Bangladesh Church. As I made this journey with them, I have realized the collegial life and spirit of the Catholic Bishops' Conference of Bangladesh (CBCB)."
He also thanked government leaders for their support.
"I thank God and you all for all the good things we have achieved together and praise the Spirit of the Lord," he said. 
"I also apologize to God and you all with a repenting heart for all the things that can be regarded wicked, ugly, unholy and unloving during my pastoral duties, which are against the Holy Spirit," the prelate added.
He said that from now on he would "delve into the largely uncharted territory of retirement life after 30 years as a bishop."
"I will remain a member of the clergy of the archdiocese. I will spend my time in some personal writings and publications," he said. 
"If the Catholic Church in Bangladesh offers me any responsibility, I will try my best to observe. I will remain obedient to higher authority, the Holy Father and lead my life accordingly," he added.
Patrick D'Rozario was born on Oct. 1, 1943, in Padrishibpur village under Our Lady of Guidance Church covered by Chittagong Diocese.
He was ordained a Holy Cross priest on Jan. 8, 1972, and became the first priest ordained in the country after Bangladesh gained independence from Pakistan in 1971.
He was appointed the first bishop of Rajshahi Diocese on May 21, 1990. Five years later, on Feb. 3, 1995, he was appointed bishop of Chittagong.
He was appointed coadjutor archbishop of Dhaka on Nov. 25, 2010, and following the retirement of Archbishop Paulinus Costa, he was appointed archbishop of Dhaka on Jan. 25, 2011.
In 2016, he became the first cardinal of Bangladesh. Pope Francis extended his term as an archbishop for two years when he reached the mandatory retirement age of 75 in 2018. - RVA News