The Bengali Service of Radio Veritas Asia (RVA) marked its 40th year on December 1 with a simple celebration at the Christian Communication Center of the Catholic Bishops' Conference of Bangladesh in Dhaka.
"I take great pleasure in congratulating the staff, producers, and all the stakeholders of Bengali Service in this 40th-year anniversary," said Father Bernard Dashi Tang, program director of RVA, in a video message.
"I would like to wish [you] a meaningful and memorable event and may you continue your success," he added.
In his message, Father James S. Gomes said RVA "always speaks the truth and preach the truth."
Father Bulbul A. Rebeiro, director of the Christian Communication Center, said that for the past 40 years, has become "a blessing" to the Bengali people.
He said the transformation of the radio network's short wave service to online in recent years has become "a challenge as well as an opportunity to reach the hearts of many people."
"Its programs touch and change people's lives," said Father Rebeiro, adding that the listeners of the service in Bangladesh "are very supportive and cooperative."
Listeners praised the service for preaching truth, promoting dialogue and harmony and pioneering social and cultural changes in rural areas.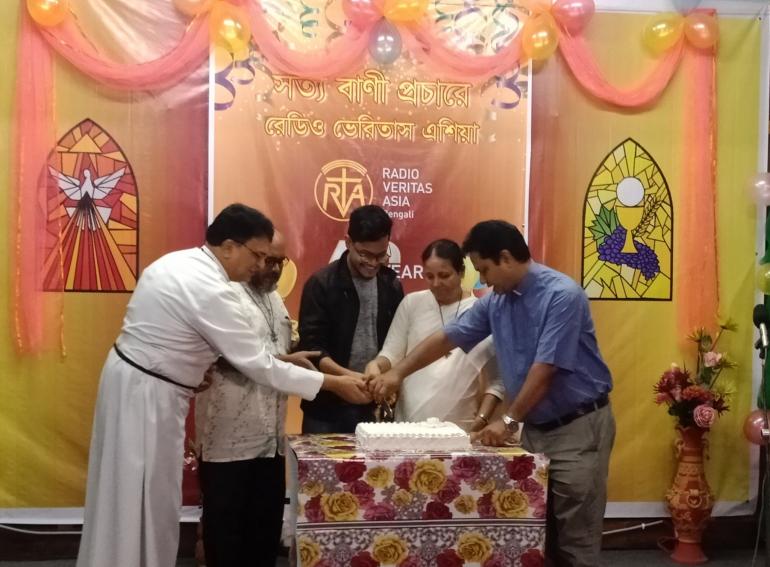 In a video message, Ashik Iqbal, 48, a Muslim from Rajshahi district, said he considers himself blessed to have been a part of RVA for years.
"Radio Veritas has cut across boundaries of faith and ethnicity and found a place in the hearts of people," said Iqbal, who has been a listener since 1983.
The Bengali Service started in 1980 and was jointly produced by the Dhaka-based Banideepti and Chitrabani (Light and Sound), a Jesuit-run communication center based in Kolkata.
RVA started as a shortwave radio station under the guidance of the Office of Social Communication of the Federation of Asian Bishops' Conferences, the collegial body of Catholic bishops in Asia.
Besides broadcasting radio programs, RVA Bengali Service produces and publishes video content.
RVA Bengali Service broadcasts programs in Bangla, the national language of Bangladesh and main language of West Bengal state of neighboring India, where Christians make up less than one percent of the population. - Nikhil Gomez / RVA News