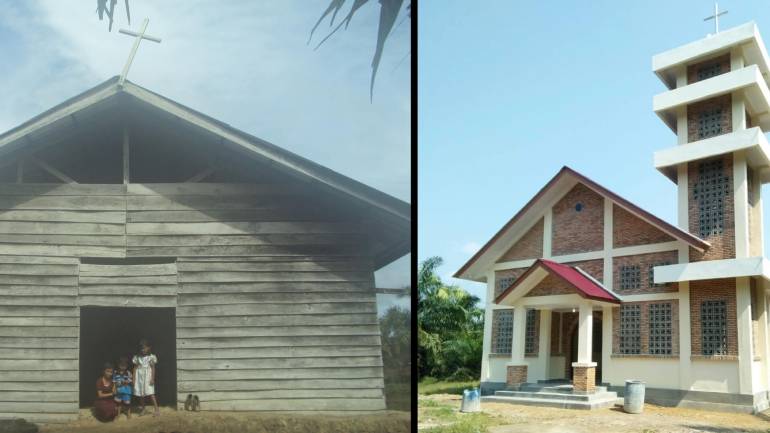 When people doubted his intention to build churches, someone from the US mailed him one dollar bill to the home address.  He thought it was  a mockery. But then he told the story over social media, people believed in the mission and started to donate to the cause. 
And that's how an Indonesian Catholic youth has built 156 churches in 27 dioceses.
Albertus Gregory Tan, better known as "Greg," became the initiator of the Care for the Catholic Church movement. It was established in February 2011 by raising funds on social media to build Catholic churches in remote areas in the world's largest Muslim-majority country.
He was born in Jakarta on April 8, 1990. He is the youngest of two children who graduated from the University of Indonesia, majoring in Social and Political Science.
Greg, a 31-year-old, works in a private bank and is a parishioner of Our Lady of the Assumption Cathedral Church in Indonesia's capital Jakarta.
At the age of 20, it was not easy for him to start the movement until he almost gave up.
Nothing is impossible in God's plan; the movement he initiated is even more massive and has become a Foundation called Vinea Dei (God's vineyard) in 2017.
Starting from the family's financial struggle, he felt a spiritual emptiness. He questions the presence of God in his life and seeks God's will for him in turmoil.
"I was seeking for answers, and I went out of Jakarta to North Sumatra province, in Central Tapanuli Regency, Sorkam district, to be precise in Rawa Polang village, Sibolga diocese," Greg told Radio Veritas Asia.
He was fed up with his life and went to meet his friend in North Sumatra. During that vacation, he visited a sub-parish during the weekend with a priest. 
"That was my first time experiencing something I ever had in life when I was in Jakarta as a Catholic," he continued.
Together with a priest, he went to a challenging, poor, and remote area to see the condition of people. It made him sad.
"But one thing I have learned is that even though villagers lived amidst many limitations and difficulties, they have a joyful and grateful attitude. That is what I felt as I lived with them," said Greg.
From this experience, he felt that he had a purpose or mission to do something for others. This understanding rekindled his hope amidst the struggle he was going through.
"It turns out that there are many people whose lives were worse than mine. At that time, I asked God a lot. Together with the villagers, I felt God's grace taught me for the first time that I should be grateful no matter what my circumstances are," he continued.
He returned to Jakarta with a new spirit and continued his studies.  Nevertheless, while he was there, one of essential things that bothered him, the experience of Sunday Mass in the church in the village. 
Witnessing the zeal of the parishioners as they sang happily and the Sunday school children were rejoicing inside the poor church's condition, Greg realized that material things could not just measure things.
"There are things that we may not be able to grasp with the human mind but bring great joy and happiness to them," he continued.
After that experience, Greg felt a strong urge to do something for them. Financially he was unable to help these people as he was still in school with no income.
He used social media as a means to raise donations after he returned to Jakarta.
At first, he just uploaded all the photos on social media. Surprisingly, people were responding to how they could help them.
Greg tried to raise donations through social media from September 2010 to February 2011. But apparently, his efforts have yielded no results. He had felt downhearted that no one believed what he witnessed.
Most people who saw his social media posts doubted his intention and efforts.
When Greg started to give up, God gave him a small and straightforward sign instead. In February 2011, a person from the US whose identity remains a secret sent an inbox to his Facebook and she asked for his home address as she wanted to send him money to build a church.
In March, a month later, Greg received an envelope from the US with no sender's address and only a name containing a letter with a US$1 bill affixed to it.
"In the letter, the unnamed woman wrote, "Greg, I will give you this US$1 as I promised for your initial capital to build a Catholic church in Indonesia," he recalled. 
At first, the money was like a mockery and a challenge for him. "How can one build a Catholic church for only US$1?" he asked.
Meanwhile, reflection on the parable of the talents became the main impetus for Greg to continue his desire. He believes that God gives each an initial investment through something small. He thought that what he received was the initial capital from God to him. 
"After I reread the letter, I believed what was written in the letter was God's message for me. It is someone's handwriting, but it is God's word to me," he explained.
He began to share the news with many people who did not believe in him. There was one person who thought it and she sent US$1, he said.
Greg's story began to knock the hearts of many people; donations began to flow little by little. With time, he tries to convince people that what he is trying to do is not a fraud but a sincere desire to repair God's house.
"Everything just flows. I believe that when God has opened a way or a door, then God will open many other doors," said Greg.
Everything departs from Greg's spiritual experience, ups and downs, and despair, and of his faith in God. Yet, he learned that in his impossible situations, God's will is at work.
Currently, there are as many as 39 young Catholics involved in the Vinea Dei Foundation. They all come from different places and dioceses spread across several areas. 
It was founded to inspire young people to do something for the church. Their initiative motto is 'from young people, by young people, and for the church.'
They are all volunteers who have jobs and divide their time between work, family, and foundation services.
Greg hopes that what he initiated can inspire more people, maybe not by building a church but by rendering services that are also good for the church and valuable for society.
Meanwhile, there has been no assistance from the church, such as the Indonesian bishops' conference, others, and the government. All donation sources are crowdfunding. The foundation has more than 5,000 donors.
Emphasizing values, the foundation wishes to construct not just from the bad to beautiful ones but, more than that, the foundation members want what they did to transform the people to believe and trust again.
"People in remote areas are unnoticed. They have never been touched by the help from the church and government. They feel that no one else cares for them. They felt left out." explained Greg. 
Greg said that their presence elevated the hope of this remote community. They feel cared for, supported, and encouraged to remain faithful to their Christian faith.
"I feel that God has a purpose and plan that is much bigger than just building a church, than what can only be seen with the eye," he continued.
The hope is that people who come to church during Mass and pray will be more earnest and comfortable and can find joy. That is far greater than the reason for which this movement was pioneered.
"The movement has made many people aware of the meaning of sharing. It is this spirit of solidarity that many people want to proclaim, that in the Catholic church, we never judge people from their background," Greg said. 
Meanwhile, various obstacles were also faced, from within and outside the foundation.
Managing collaboration with people in different places is extraordinarily difficult as the way they work, act and think are different.
---
Radio Veritas Asia (RVA), a media platform of the Catholic Church, aims to share Christ. RVA started in 1969 as a continental Catholic radio station to serve Asian countries in their respective local language, thus earning the tag "the Voice of Asian Christianity."  Responding to the emerging context, RVA embraced media platforms to connect with the global Asian audience via its 21 language websites and various social media platforms.