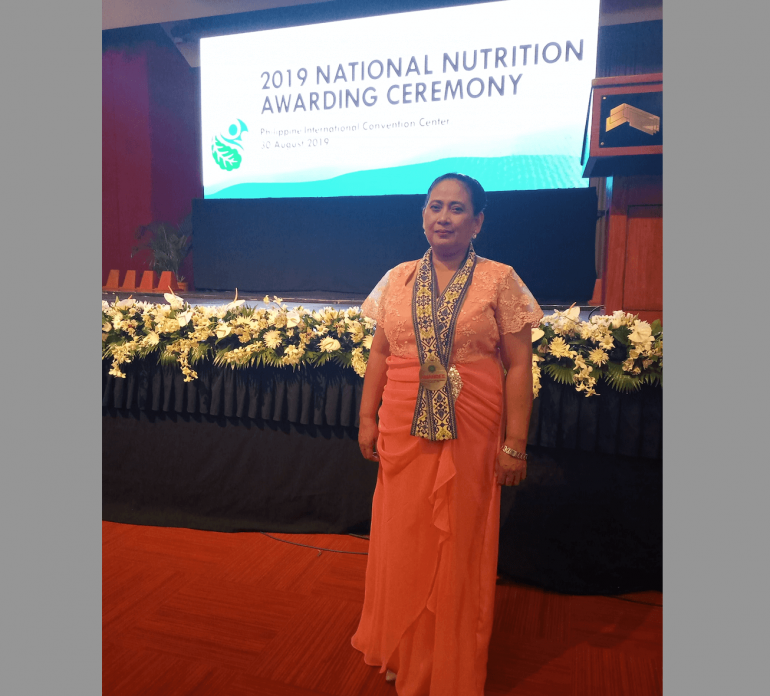 Women have a greater potential to be change-makers in society, says a 56-year-old volunteer at a church-run pastoral ministry in a remote region of the northern Philippines.
"Women can be catalysts of change for the progress of any society. They need to be educated, empowered, and given opportunities to contribute to society for the common good," says Eden Abogado Cordova.
She is a native of Barangay (village) Awitan, Camarines Norte province in the Philippines located in the Bicol Region in Luzon.
Cordova is a coordinator of the Pastoral Care for Children program (PCC) in Daet (capital of the province), besides working in the barangay (village council) health center as a Barangay Nutrition Scholar (BNS).
Speaking on women empowerment, Cordova says, "I teach women like me to spread  various government welfare programs."
It is society's responsibility to help a government to develop a community through women, she adds.
"When women are empowered in family, society gets organized and all benefit from their work and service," says Cordova. "Like in a family, when the mother is knowledgeable, a family is organized."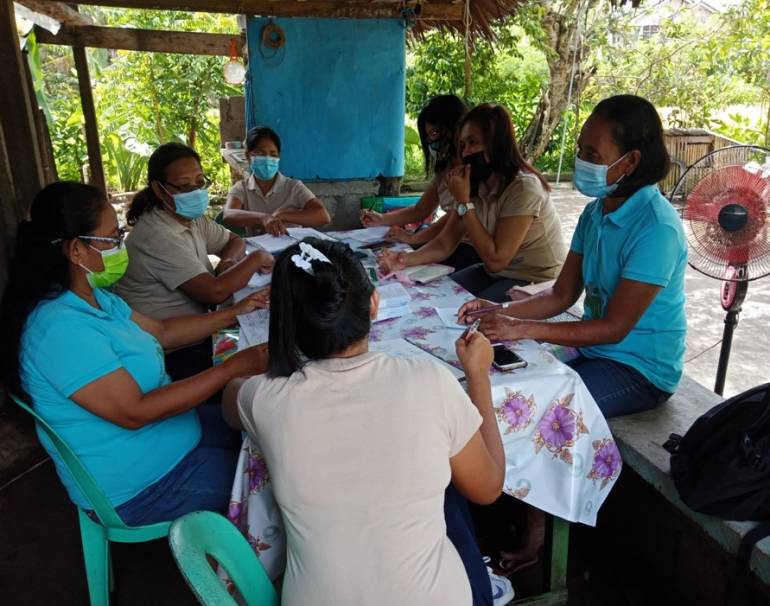 According to her, women have the ability especially when there are conflicts, they can resolve issues, as women have convincing power. They are fast to settle disputes; they are calmer, more deliberate, and have voices now.
One challenge women face in the Philippines, Cordova says, is gender-based discrimination.
Most men look down on women, even if they are educated, professional, and empowered. "This must change," she says.
"There are many places in the Philippines where women are considered just good in the house and in some communities and cultures, rights of women are not yet all fulfilled," Cordova says.
In families, there are traditions that women are not sent for education. Some complete only high school or elementary and get married early especially those living in villages, she adds.
Women are seen as "sex objects," but in civilized places, they are almost equal to the stance of men and women in society, she says.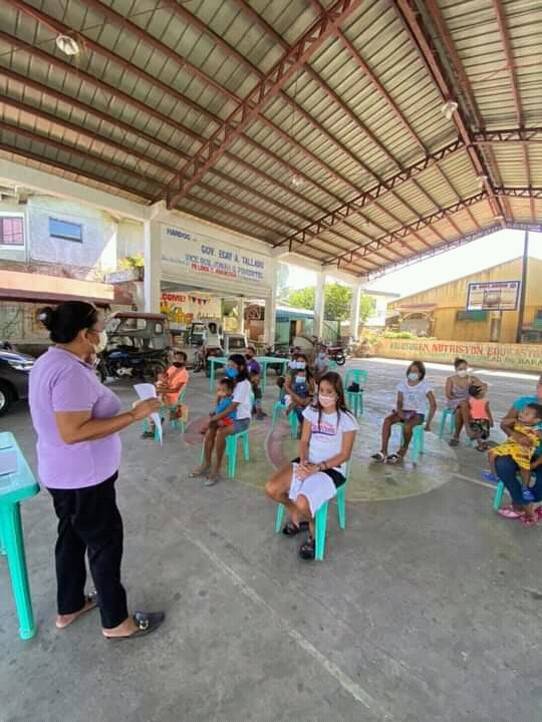 Cordova's journey to be self-empowered had a humble origin. She is the fourth of nine children (four girls and five boys), though, at present five siblings are living (three girls and two boys). She was born in Daet, Camarines Norte.
Her father was a farmer and her mother was cooking and selling food. From her mother, she learned to cook different kinds of food. 
As a child, she helped her mother with siblings in preparing and cooking the food to be sold.
"When we arrive from school, before doing school assignments, we would help pack the food for selling," Cordova recalls.
She graduated as a Salutatorian in Elementary in Awitan. She studied the first year to third-year high school in Camarines Norte High School but went back to Awitan to study fourth-year high school in Vicente L. Basit Memorial High School.
As a transferee in high school, she excelled in school and was given an academic excellence award.
She studied Bachelor of Science in Commerce (major in Accountancy) at the University of Nueva Caceres in Naga City. Due to financial problems, she did not finish her college studies. 
It was her elder sister living in Manila who knew a recruiter and asked if she wanted to work abroad and since she stopped schooling at that time, Cordova agreed.
She went to Kuwait to work as a domestic helper in 1987 at the age of 21 and worked for seven years. Cordova was single at that time.
"I was blessed to have a good and kind employer," Cordova said. She supported financially her family as an Overseas Filipino Worker. 
Being in Kuwait, she also learned a lot about cooking.
She met her husband when she returned to the Philippines from Kuwait. At 29, she got married and settled in the country. Now, she is happily married for 26 years.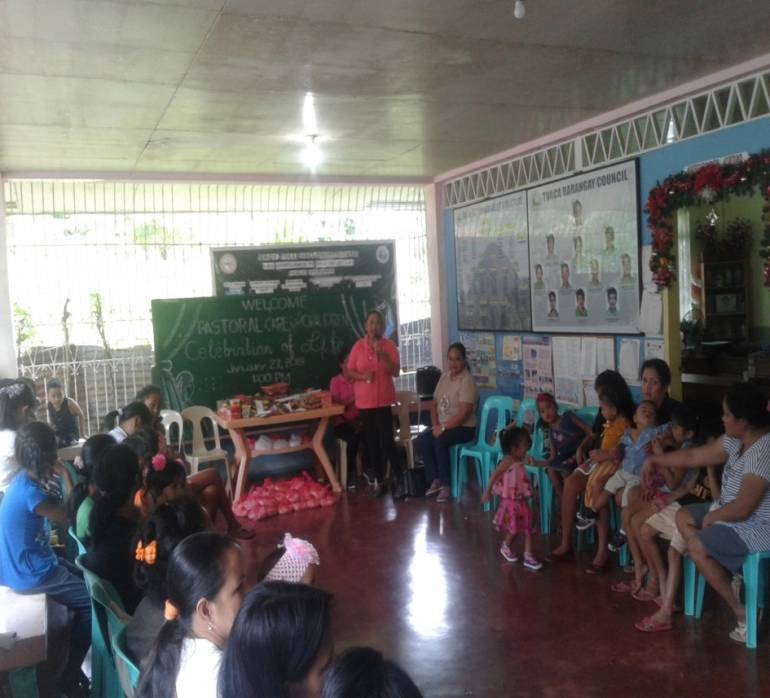 According to her, it is different when the mother is present with one's family.
Cordova has a son and daughter. The daughter already graduating in electrical engineering and is at present reviewing for the board exam. Her son continues his schooling.
When asked, why Cordova joined as the PCC coordinator in Daet where PCC first started, she says, it was maybe what they called "tawag ng tungkulin" (call of duty).
At that time, she did not yet have much work and was eager to render service for the said program.
"I had two kids already then, but I had time. One of my attitudes is to take the 'challenges' and it was a new experience for me," Cordova recalls.
She used to join the parish pastoral meeting in her local church in Awitan. She was invited to join a seminar by a nun from the Sisters of the Immaculate Conception of Castres, who run the PCC program. That was how she became a part of the PCC ministry.
In her early years as a PCC volunteer, she faced difficulties. One was a limited budget for the program.
"We contribute rice from our homes for the monthly celebration of life before, when we did not have yet support so we can feed the children," Cordova remembers.
One time, Cordova was told by a volunteer, "I am already a volunteer and I also have to give from my own?"
When there is a need, Cordova contributes her personal money or resources to PCC activities.
She persists in her work despite she faces challenges. In the past, some of her companion volunteers put her down.
"One time, I cried and shared to Sr. Elisabeth who encouraged me, 'Don't mind them'. A tree that bears a lot of fruits is often pelted with stones," Cordova says.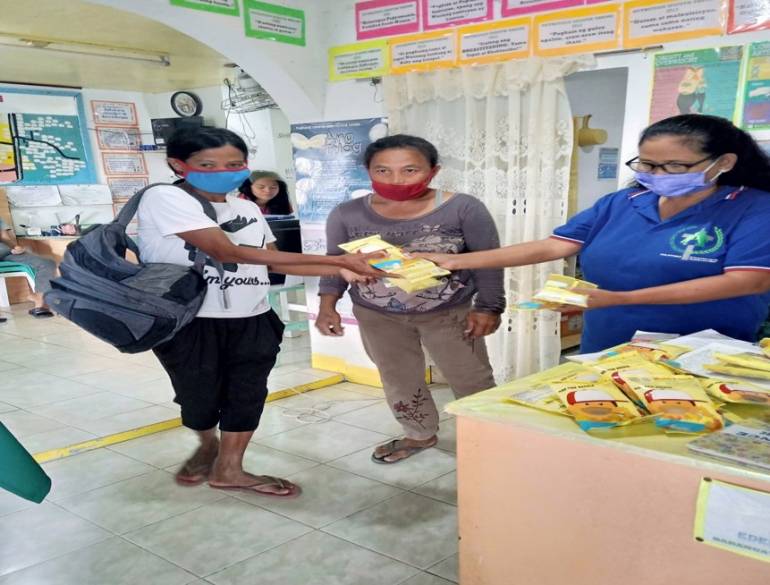 She was assigned to lead and coordinate. She was included in the multiplier team giving training and seminars. 
"I was able to go to Bataan, Manila, Cubao, Sorsogon, and other places. We used to give seminars with a fellow PCC volunteer Teresita Soriano (who passed away). We were tandem before," Cordova says. 
She reached many places and it widened her experience. "You learn more in the places you go. Some things are not learned in the community that you learn in other places that you can adopt in your place. Whatever my learning, I share with others. While you share, you also learn," Cordova describes. 
According to her, the biggest help that PCC has done is to transform the behaviors and attitudes of mothers.
Mothers who are part of PCC are slowly changing in their way of taking care of children and themselves. Change is slow, but they progress well.
"We encouraged pregnant women to go for a check-up in the health center, and look after the health and nutrition of their children," Cordova says.
She and her colleagues have much learning to share with women. With the support from PCC national office, Cordova and her team educate mothers who are given information on health, sanitation, nutrition, and how to manage family responsibly. 
Cordova shares the challenges of the families. "At present, during our last meeting of coordinators, one community coordinator shared that she was accompanying a family of PCC with two children with cerebral palsy. It is pitiful. I advised to bring to a doctor in the provincial capital to be checked and from there we can find ways to address whatever their needs," Cordova says.
Her formation as a volunteer leader in PCC helped her a lot, not expecting to receive anything but only dedication for a mission.
"It is difficult to leave this mission, even if you feel discouraged at times. My mind, body, and heart still want to continue," Cordova says firmly.
She was offered a job in the province and municipal city. But, she did not leave the barangay. "I cannot anymore go house to house. I will just stay in the office. I will miss my work in the community," she notes.
Cordova was awarded as the 2018 National Outstanding Barangay Nutrition Scholar among 42,000 barangay nutrition scholars (BNS) around the Philippines.  
She started working as a BNS in August 2006 till the present. Since 2012, she was the BNS president in the province, and in 2014, she became the president in the Region. She was able to organize three BNS regional congresses.
The nutrition action officer (NAO) saw her efforts and pushed her to join the search for outstanding BNS. She had many programs then.
To be an outstanding BNS, one should have an innovative idea to lessen malnutrition cases. She started a Nutri-challenge program in their barangay.
"We helped and challenged mothers to help increase and make normal the weight of their malnourished children. We focused on 17 severely malnourished children for a year and improved their health," Cordova shares.
Along with the program is the massive campaign for the search for pregnant, prenatal check-ups, follow-up home visitation, and weighing of children.
As a PCC coordinator of Daet, she oversees seven communities in four parishes.
She holds coordinators' meetings every month. She tries her best to visit them during important occasions or struggles.
"I go down to the communities together with her colleague Emma Cabanela, to see the actual happenings in the grassroots/community, making sure that they are doing home visitations," she says.
Whatever problems women express, the PCC team addresses. "We talk during the meeting about what we can do about the situations of their families," Cordova explains.
Her goal is not to let PCC Daet stop because this is the pioneering place. There are times she gets discouraged.
Some leaders quit, as one cannot stop them if their priorities are their own families.
"I encourage the coordinators that we train new leaders. That's our goal for this year. Some are elderly already," Cordova says. "We just find ways to budget the funds. We just continue. We are happy that Celebration of Life can already continue with the lessened restrictions." 
As the Philippines celebrates National Women's Month (March), her take on the role and contribution of women in society, church, and family, Cordova says at present, most women know their rights and are also involved in society. One can see this in organizations.
They know they can also do what men can do. Women have a voice even in leadership positions.
In the church, women are also involved as catechists and advocates of church-run programs.
"Let's do what we can as women to help our community, how to progress; let's do what we can to achieve also our rights," Cordova says as a message for women.
"Women have the rights to education and their voices to be heard in family and community. Not only men's decisions are to be followed because women have a voice, intelligence, and strength to do what men also do. Moreover, men cannot put women down," she says.
And most importantly, unity in the family, helping one another, and building a better society are the keys to making a happy and peaceful family. It is in the hands of women and others.
She is thankful to God to be an instrument to help in the community. Cordova reaches out to more families and helps others to avail themselves or receive the PCC programs despite hectic schedules.
She is also grateful for the gift of good health and strength, and the support of her family to be at the service of others.
"When it is God you serve, you will be guided until the end. As long as I can, I will continue to serve others," Cordova says.
---
Radio Veritas Asia (RVA), a media platform of the Catholic Church, aims to share Christ. RVA started in 1969 as a continental Catholic radio station to serve Asian countries in their respective local language, thus earning the tag "the Voice of Asian Christianity."  Responding to the emerging context, RVA embraced media platforms to connect with the global Asian audience via its 21 language websites and various social media platforms.