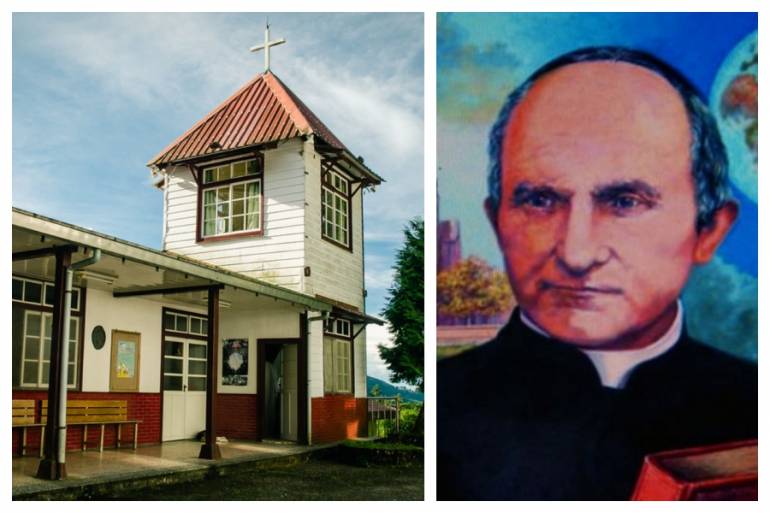 January 15: Feast Day of Saint Arnold Janssen
Tracing Janssen's path to founding SVD is a lengthy journey. It encompasses his numerous interactions with a ​​variety of parties. Inevitably, a slew of issues and complications arose during the process. He encountered cultural clashes and religious strife in Germany following the outbreak of the "Kulturkampf," which resulted in the decline of spiritual practices in the country. As a devout Catholic family, Janssen was taken aback by a shift in the public's religious attitude.
On November 5, 1837, Arnold Janssen was born in Goch, a small town on the German-Netherlands border. Gerhard and Anna Katharina Janssen were his parents.
He founded three international mission congregations: the Divine Word Missionaries (SVD), the Missionary Sisters of the Servants of the Holy Spirit (SSpS), and the Servants of the Holy Spirit of Perpetual Adoration (SSpSAP).
When Janssen was in high school, he did not consider himself an exceptionally bright student in his class. Janssen had to learn and master several foreign languages in the early stages: Latin, French, and Hebrew. He even struggled with Latin.
Consequently, he received only a half-scholarship to attend Gaesdonck secondary school. Janssen acknowledged his intellectual incapacity but was taken aback by his accomplishment, which included a commendation from his school. Despite the difficulty of obtaining a good Latin mark, he considered the natural sciences one of his most potent and enjoyable subjects.
On August 15, 1861, at Munster Cathedral, Janssen has ordained a priest. His interest in natural sciences grew later when he was assigned to teach at a secondary school in Bocholt. Apart from teaching, he also served as vice-rector. His scientific knowledge became a source of capital from which he could "generate" an income.
After agreeing with the school board, he offered to purchase Mary's statue with his funds by giving scientific lectures in an auditorium and charging a small admission fee.
Given the school's non-Catholic (Jewish) enrollment, some board members opposed the idea of erecting a Marian statue in the auditorium.
This was one of his earliest encounters with the prospect of intercultural conflict. After more than 12 years of teaching, he resigned due to a board dispute.
Janssen spent more than two years after resigning from teaching at Kempen as chaplain and spiritual director of the Ursulines.
In January 1874, he was inspired by the apostleship of prayer. He served as diocesan director for several years, Janssen began publishing the Little Messenger of the Sacred Heart, a mission magazine.
He reflected on this a few years later, stating, "At Bocholt, I was imbued with the idea of doing more for the spiritual welfare of the Church, particularly the foreign missions."
Janssen stated plainly in the magazine's first issue that the magazine's purpose was to inform people about Catholic missions at home and abroad in a readable and exciting manner.
Janssen stated his understanding of the mission in the first edition. He noted that the magazine's purpose was to disseminate information about Catholic missionary work at home and abroad.
He then narrowed it down, as said in the second issue: "Our messenger's primary objective is to arouse interest in the Catholic Church's foreign missions carried out among the pagan nation."
Janssen appears to emphasize the foreign mission, a pagan mission, in contrast to his previous understanding of the mission, in which he treated domestic and foreign missions equally.
Janssen's sense of mission shifted due to the practical implications, which rendered many priests unable to continue their work in Germany. In light of this reality, Janssen broadened his missionary vision to include the proclamation of the faith among non-Christians abroad.
As an author, editor, and publisher, he became interested in writing about and promoting mission work through the magazine. This prompted him to contact Bishop Raimondi, Hong Kong's Prefect Apostolic (then still Vicar Apostolic), who was visiting Dr. Von Essen, Neuwerk's parish priest, at the time to obtain additional details about the mission for publication in the magazine.
On this occasion, Janssen expressed his concern to Bishop Raimondi about the absence of a mission institution in Germany, even though Catholic life in Germany was so vibrant, in contrast to the Catholic church's life in other countries such as France, Italy, Belgium, and the United Kingdom.
Janssen regarded himself as a member of the "old flock" and thus could not attend the mission. On the other hand, Bishop Raimondi challenged him, saying, "Some priests must remain at home and work for Germany's cause."
Janssen paid two visits to Bishop Raimondi in Kempen following their initial meeting. During this meeting, Bishop Raimondi coerced him into starting his own mission house (seminary).
Janssen responded, "If no other German priest is willing to take on the project, I believe that I should begin myself and collaborate with Dr. Von Essen."
He encountered numerous difficulties establishing the mission house due to a lack of financial and property resources. To bring about a resolution, Janssen communicated his concerns via the Little Messenger of the Sacred Heart.
Additionally, he visited various locations such as Venlo and Tegelen to inform the public about the mission house's complete proposal. Janssen discussed the proposal with numerous people, requesting their financial support.
All attempts to find the mission house were unsuccessful. Janssen demonstrated his plan to the manager of Prince Liechtenstein on one occasion. Following the meeting, he was informed by the manager that he would be unable to contribute to the project. Janssen, on the other hand, would never be discouraged. He believed that God would continue to lead him in the right direction, utilizing his tiny hands to do so.
Another impediment to establishing the mission house was Brinkmann, his own Bishop. The bishop once responded to his request to establish the mission seminary with a letter.
Without a doubt, this is an extraordinarily redemptive and meritorious work. However, we should not be blind to the fact that achieving this goal will entail significant obstacles, beginning with financial constraints... the matter must be carefully considered and tested according to Christian wisdom to determine whether God has called you to this purpose. Not everything beneficial in and of itself is necessarily God's will for us.
Despite these obstacles, the mission house in Steyl, Netherlands, was inaugurated on September 8, 1875. However, its success was never guaranteed. Internal, the challenge came from the house's three founding members. Janssen was at odds with his companions over the house's rules and statutes.
A slew of issues, primarily practical, remained unresolved. The problem of objectives and statutes was the trustworthy source of contention and division, but at its heart, if it was the actors' disparate personalities, the issues overlapped and interacted; they could not be neatly separated.
A disagreement with his companions over the statutes, particularly regarding the patron of the mission house, its primary purpose, the requirements for candidates entering the mission house, and the training content of the seminaries, was the climax of these problems. The new mission house in Steyl was polarizing.
Janssen remained committed to establishing an apostolic school and a mission seminary to prepare seminarians for service in foreign countries. The rest of the community, on the other hand, was opposed to this notion.
The other members observed that the seminary lacked applicants because the seminary's rules were antithetical to the interests of the majority of young people, particularly in terms of the Dominican Third Order's practice of strict abstinence, which Janssen adopted.
Fr. Bill, a mission house member, expressed his opinion toward Janssen to end the unhealthy dualism in the mission house. He requested that Janssen begins with only an apostolic school.
Throughout the account of the Society of the Divine Word's founding, Janssen continued to hone his abilities and approaches for addressing and resolving issues and problems that arose from intercultural conflict situations.
Arnold Janssen eventually established the mission house in Steyl, giving birth to the Society of Divine Word through his methods, means, and resolutions (SVD).
The mission house's intercultural situation was evident in the composition of its members, who came from various locations, including "Bavaria (Johann Baptist Anzer), Tyrol (Joseph Freinademetz), and Luxembourg" (Franz Xaver Reichart and Peter Bill).
Janssen has had a particular interest in academic studies since the mission house's inception. Thus, numerous young missionaries were sent to study subjects other than philosophy and theology, including linguistics, ethnology, and anthropology.
Janssen's interest in academic research was demonstrated by his efforts to assist individuals such as Wilhelm Schmidt in initiating the publication of Anthropos, founded in 1906 to publish missionaries' reports and studies on the people and cultures with which they worked. This occurred three years before Janssen's demise.
Arnold died on January 15, 1909. His intercultural charism has been reflected in the life and mission of the three congregations that he founded: more than 5977 Divine Word Missionaries are active in 73 countries, more than 2976 missionary Servants of the Holy Spirit, and more than 307 Servants of the Holy Spirit of Perpetual Adoration.
---
Radio Veritas Asia (RVA), a media platform of the Catholic Church, aims to share Christ. RVA started in 1969 as a continental Catholic radio station to serve Asian countries in their respective local language, thus earning the tag "the Voice of Asian Christianity."  Responding to the emerging context, RVA embraced media platforms to connect with the global Asian audience via its 21 language websites and various social media platforms.