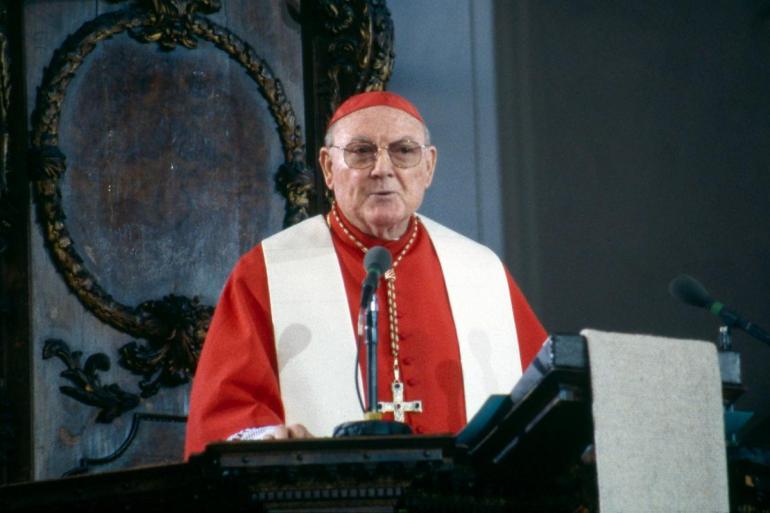 Cardinal Edward Cassidy, first papal nuncio to Bangladesh, died in Newcastle, Australia, on April 10. He was 96 years old.
Cardinal Cassidy was also president emeritus of the Pontifical Council for Promoting Christian Unity.
He was papal nuncio to Bangladesh from 1973 to 1979.
In 1993, he came back to Dhaka as a papal envoy during the blessing of the newly built Holy Rosary Church in Tejgaon.
"A true good shepherd, a spiritual priest, a deep spiritual person, a man of prayer, a man of God," recalled Father Patrick Gomes, who was already a priest during the time of Cardinal Cassidy.
The priest said that the cardinal even attended his ordination on Jan. 7, 1979, and "greeted me with an embrace."
"I took his blessings and he blessed me abundantly," said the priest, adding that the cardinal was his "guide, spiritual father, my courage when in despair, my strength and hope when puzzled."
"Cardinal Cassidy showed not only diplomatic skill and political astuteness, but also human authenticity and common sense," said Archbishop Mark Coleridge, president of the Australian Bishops' Conference. 
"There was a simplicity in it all – the simplicity of a man called to high office in the Church but with his eyes firmly on Jesus Christ."
Archbishop Coleridge recalled the Cardinal's "friendly and down-to earth" manner in his years of service in the Vatican and in particular during his years at the head of the Department for Christian Unity.
In a message of condolence, Archbishop Anthony Fisher, OP, of Sydney, highlights the "remarkable legacy" he left on the Church, "especially in the field of ecumenism." 
"Few other Australians have had such a profound impact on the Catholic Church on the international stage and I'm sure he will continue to inspire Church leaders for many years to come," said the archbishop.
Cardinal Cassidy was born in Sydney on July 5, 1924. He was ordained a priest in 1949 and he entered the Pontifical Ecclesiastical Academy in 1953 after studying Canon Law at the Pontifical Lateran University in Rome. 
He entered the diplomatic service of the Holy See and held diverse posts in various countries before being promoted by St John Paul II in 1988 to the position of Substitute of the Secretariat of State for General Affairs. 
He continued in that post until Dec. 12, 1989, when he was appointed president of the Pontifical Council for Promoting Christian Unity, assuming at the same time the role of president of the Commission for Relations with Judaism.
Created cardinal in 1991, he resigned from the presidency of the Pontifical Council for the Promotion of Christian Unity in 2001, having surpassed the age limit two years earlier. - Nikhil Gomez / RVA News