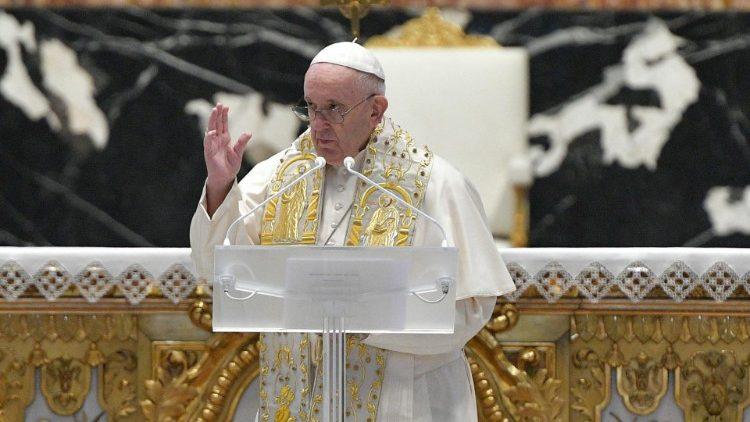 Pope Francis urged people around the world not to give up hope despite all the challenges, including the coronavirus pandemic, in his traditional Easter message "Urbi et Orbi" – to the city and the world.
The pontiff underscored how Easter gives the Christian world hope that does not disappoint, that is "Jesus who was crucified has risen."
Pope Francis delivered his message inside the St. Peter's Basilica due to health measures brought about by the coronavirus pandemic.
In his message, the pope noted the difficult realities the world has been encountering these days, including the spread of COVID-19 and the social and economic crisis that hit the poor.
He also added what he described as the "scandalous" fact that "armed conflicts have not ended and military arsenals are being strengthened."
The leader of the Catholic Church, however, said the Risen Christ gives hope and comfort for those suffering from the pandemic, the sick and those who have lost a loved one. 
He prayed that the Lord might "sustain the valiant efforts of doctors and nurses" even as he stressed that everyone, especially the vulnerable, needs assistance and has a right to care.
Noting that COVID-19 vaccines "are essential," the pontiff appealed to the international community "to commit to overcoming delays in the distribution of vaccines and to facilitate their distribution, especially in the poorest countries."
He said he is praying that Christ might "inspire public authorities to act so that everyone, especially families in greatest need" can be provided with help" to avoid sliding into poverty.
The pope also cited the psychological weight of the pandemic on young people, who are often forced to stay at home without attending school or visiting friends in person. 
The pontiff recognized how in so many places Christians have celebrated Easter under severe restrictions. 
He prayed that these, and all restrictions on freedom of worship and religion worldwide, may be lifted so all are allowed to pray and praise God freely.
Praying for Myanmar, other conflict areas
Pope Francis prayed for the young people of Myanmar who "committed to supporting democracy and making their voices heard peacefully" so that "hatred can be dispelled only by love."
He recalled migrants fleeing from war and extreme poverty, praying that may "light of the risen Jesus be a source of rebirth" for them, as we see in them the "marred and suffering face of the Lord" on the path to Calvary. 
He cited countries like Lebanon and Jordan that showed "concrete signs of solidarity and human fraternity" for receiving refugees fleeing violence in neighboring Syria.
The pope, however, pointed out the "deafening and scandalous silence" regarding the suffering in Yemen.
Speaking about Libya, Pope Francis expressed hope for an end to the decade of bloodshed and unrest. 
He encouraged all parties involved in conflicts around the world to "commit themselves" to end it and allow "war-weary peoples to live in peace" and rebuild their lives and communities.
The pope urged the faithful to pray that the Lord "grant peace and security" so that the world can "embrace its calling" to be a place where "all can see one another as brothers and sisters."
He encouraged Israelis and Palestinians to "rediscover the power of dialogue" so a solution can be found to "enable the two states to dwell side by side in peace and prosperity."
Pope Francis recalled his visit last month to Iraq and prayed that the nation continues on the "path to peace" and "fulfill God's dream for a human family hospitable and welcoming to all his children."
He said that amid the many hardships "we must always remember that we have been healed by the wounds of Christ and in light of the Risen Lord, our sufferings are now transfigured … where there was death, now there is life." - Joe Torres/LiCAS.news/RVA News