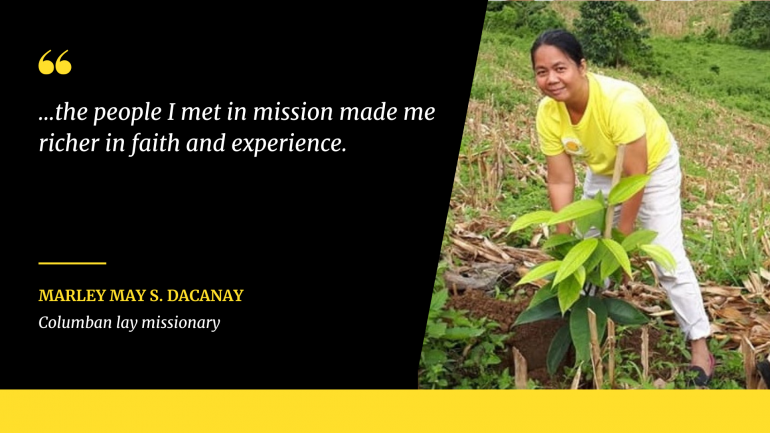 [Marley May S. Dacanay, a Filipina, is a Columban lay missionary. She was a missionary in Taiwan from 2003 to 2006. In this write-up, she recounts her missionary life in Taiwan.
As people of faith, Columban Lay Missionaries, an intercultural group of women and men, single, married, and families, are called to respond to God's mission by crossing boundaries of culture, gender, creed, and race. They live and share the Gospel of Jesus, whose faith calls them to share their life with the poor and marginalized. They are involved in the pastoral work of the community, in education groups, youth groups, health and human rights advocacy and promotion, environmental work, interfaith dialogue, and building bridges of dialogue between peoples of diverse cultures and faiths in cross-cultural missions.
They work in partnership with members of the Missionary Society of St. Columban (better known as Columban priests). The congregation was founded in 1918 in Ireland as a Missionary Society of Priests for the evangelization of China. Today, over 396 Columban priests and lay missionaries work as missionaries in 16 countries.- ed]
"It is the time you have wasted on your rose that makes your rose so important." (Antoine de Saint-Exupery, The Little Prince)
 
After a year of Mandarin language study, the next phase was to engage in a part-time ministry. I chose the Aborigines ministry, and so I lived in the mountains of Taiwan.
Eventually, I decided to make it my full-time apostolate. Our mission team was composed of two Columban priests and two Filipina Columban Lay Missionaries in Taiwan. 
At first, I rode a sturdy mountain bike as I moved from one village to another. I did mostly home visitations and attended house prayers to get to know the place and the people. In time, I ended up driving an automatic motorcycle to be able to reach far-flung villages. We had eight villages to accompany.
 
Riding a motorbike gave me a sense of freedom since I could waste time by making casual visits to the villages anytime I wanted. I was always amazed at the beauty of the mountains, and sometimes I got so caught up that I went past the houses I was supposed to visit. But, riding a motorcycle has its downside too.
There were several instances when I would be chased by dogs, or a snake would cross my path. Also, driving in the rain and during the winter season is a struggle too. I believe in my heart that those special prayers offered for me by my family, relatives, and friends have protected me from danger and helped me overcome the challenges of my mission. My prayers likewise enabled me to see God's hand in my day-to-day life on mission.
 
The first person we visited was an elderly lady that my Filipina co-missionary visited every week, who was living alone in her house. We wasted time chatting with her as far as our broken Mandarin could take us and always ended our visit with a short prayer together.
It has become a routine visit for us that even her neighbor, a lady with a mental health condition, will go over to her house and will be waiting to join us. Maybe she understood our Mandarin language or got curious about us. She became our friend too.
 
We then started to waste more time by joining the communities in their cultural activities like weddings, wakes, and funerals, among others.
Our network of friends then expanded. I found comfort with the adults and enjoyed being with the kids. What surprised me was that I was able to get along with the youth too. Annual summer camp for the kids was something I always looked forward to since it would be a great time to work together with the women, staff, and youth volunteers. The summer camp would run for a week. My part was to give English class activities to the kids.
 
Every Monday morning I would drive my motorcycle to the bus stop, and along the way, I never failed to stop and waste a few minutes with an elderly lady named "Yaki."
My Monday mornings with Yaki would be like this; I would greet her "zao an" (good morning) and "chibaole ma?" (Have you eaten?) and the old lady would always just stare at me without saying anything. I would then politely say goodbye to her and park my motorcycle at our friend's place near the bus stop. I would then ride the bus to the lowlands, going to the Central House for our weekly TMU (Taiwan Mission Unit) dinner.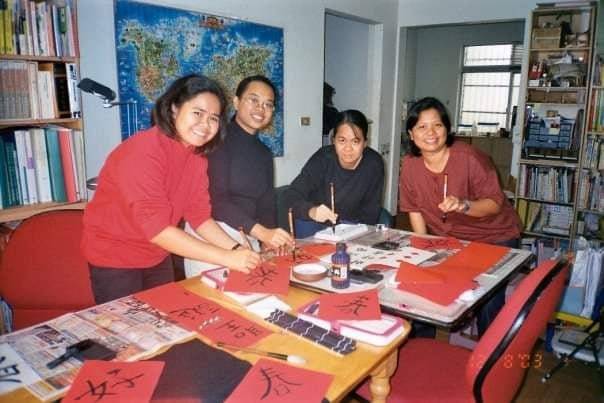 Time flew so fast that I was about to leave Taiwan, and so I started to say my goodbyes in the mountains. I saw "Yaki" seated outside her house as usual, but that day, I did not stop to greet her. I looked back, and it was "Yaki" waving and calling my name. I was happily in shock. For the first time she was talking to me, she asked, "Ni qu nali?" (Where are you going? It was the first time we had a conversation! Even to this day, that memory with Yaki still gives me a warm and happy feeling. When I finally gave up trying to win her friendship, it was when I realized that wasting my time with her was not in vain.
 
Certainly, the people I met on the mission made me richer in faith and experience! Doing missions in the mountains with the aborigines with our group of two ordained priests and two lay missionaries with different genders, cultures, and backgrounds surely was very challenging and, at the same time, rewarding.
The mission's group witnessing was truly a gift from God. After all, it was worth wasting time in Taiwan!
After Taiwan, I joined another lay missionary group and was assigned to Cambodia, and later Brazil. I am now back home in the Philippines.
My previous overseas lay missionary experiences prepared me for my present commitment. I am now my mother's personal caregiver. She is 91 years old. I assist her in her daily activities and live with her 24/7. This responsibility includes managing the house and the entire household. I have a few years before my own retirement age, but I have to put on hold the few options I have to live my life the way I want. I am holding on to God's assurance of "Be still and know that I am God." - Columban Lay Missionaries Philippines
---
Radio Veritas Asia (RVA), a media platform of the Catholic Church, aims to share Christ. RVA started in 1969 as a continental Catholic radio station to serve Asian countries in their respective local language, thus earning the tag "the Voice of Asian Christianity."  Responding to the emerging context, RVA embraced media platforms to connect with the global Asian audience via its 21 language websites and various social media platforms.