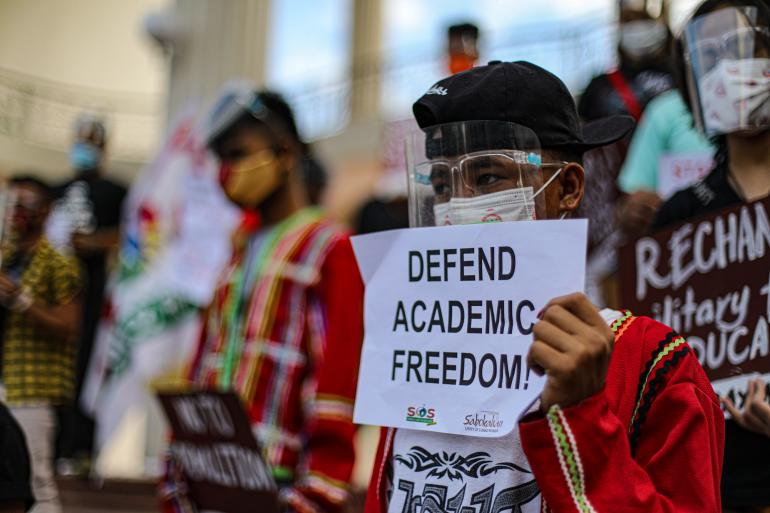 Human rights and activist groups raised alarm over a police "rescue operation" of tribal students from a Church-run university in the central Philippines on Monday, February 15.
Media reports said authorities conducted the "rescue operation" after the children's parents sought police help to recover the children from alleged "rebel recruiters."
Police Gen. Ronnie Montejo, police regional director in Central Visayas, said the operation was done after six parents and the government of Davao del Norte province sought the help of Cebu officials.
"Their children were taken by the members of the Salugpongan Ta' Tanu Igkanugon (Community Learning Center Inc.) without their knowledge and consent," claimed the general.
"They are victims of indoctrination and recruitment by the community terrorist group and exploitation of the Salugpongan as they were used during protest rallies against the government," he added.
Human rights group Karapatan, however, questioned the conduct of the "rescue operation."
"What kind of rescue operation involved force and coercion by uniformed elements like the [police]," read a statement from Karapatan secretary general Cristina Palabay.
She claimed that the students were victims of "forced evacuation amid military and paramilitary operations" in tribal communities in Talaingod town, Davao del Norte province.
She said the students were "obviously in distress as they were forced out of the Lumad school in Cebu, despite and even with the presence of their parents."
The Student Christian Movement of the Philippines also condemned the incident, describing it as a "blatant disregard on human rights and democratic aspirations" by the tribal people.
The group Save Our Schools Network claimed that 21 students —15 minors and six adults — were taken away in the "rescue operation," along with two teachers and two elders.
The network posted a live stream of the "rescue operation" showing children screaming in a classroom as they were forced out by men in uniform. - LiCAS.news