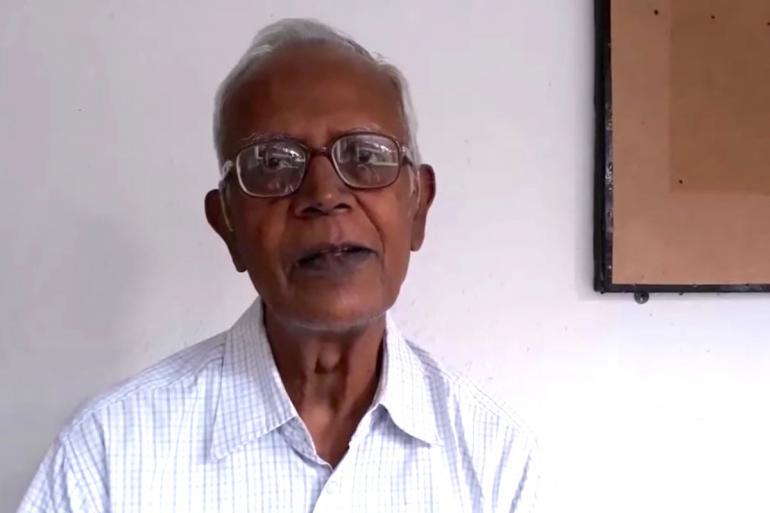 Frank Krishner, Radio Veritas Asia
A special court on Monday, March 22, rejected the bail application of tribal rights activist and Jesuit priest Stan Swamy, who was arrested by the National Investigation Agency in October 2020.
"We are saddened to share with you the news that Father Stan Swamy has been denied bail today, March 22, 2021, by the Sessions Court judge in Mumbai," read a statement issued by Father Jerome Stanislaus D'Souza, head of the Jesuits in India.
 
Father Swamy, 83, was living in Ranchi, capital of Jharkhand state in Eastern India, when he was arrested on October 8 and brought to Mumbai, about 1,750 km southwest, where he was charged with seven others. 
He has been in judicial custody in Taloja Central Jail near Mumbai for the past five months.
The Jesuit priest was charged under various sections of the Indian Penal Code and terror related offenses under the Unlawful Activities (Prevention) Act for allegedly furthering the cause of banned communist organizations by means of civil rights organizations that he is part of.
Authorities said the priest's Persecuted Political Prisoners Solidarity Committee, a human rights organizations providing legal aid in Jharkhand State, is a front organization of banned Maoist and extremist groups.
Father Swamy is also founder of Bagaicha, an organization dedicated to empowering the Adivbasis, and indigenous people group. It provides legal aid to tribals, including minors who are thrown into jail for protesting on land rights issues.
Authorities claimed that Bagaicha is connected with Vistapan Virodhi Jan Vikas andolan, an organization that takes up the issue of tribes being displaced from their land, and that the VVJVA is also a front for the communists.
Father Swamy, through his lawyer, filed for bail on grounds that he is being framed by authorities due to the nature of his work and that he is suffering from serious ailments, including hearing loss from both ears and arms injury. 
"He has undergone two hernia operations and is still suffering from abdominal pain. He suffers intense pain due to spondylosis and tremors in both hands due to Parkinson's," read his application for bail.
"Another sad moment," said Presentation Sister Dorothy Fernandes who works with the social action ministry in Patna, Bihar.
"We believe that Stan will come out of this situation clean, even though at present the culprits appear to be stronger," said the nun.
Father Donald Miranda SJ, provincial superior of the Jesuits in Patna said the news was "truly shocking."
"How does keeping an 84-year-old man in prison serve the cause of justice?" he said.
"It is easy to despair, however, the season of Lent gives us hope as we look forward to the Paschal Mysteries leading to Easter," added Father Miranda.
In a statement, the Jesuit Conference of Asia urged everyone to continue to pray for justice to prevail and expressed hope that Father Swamy would be released soon. - RVA News