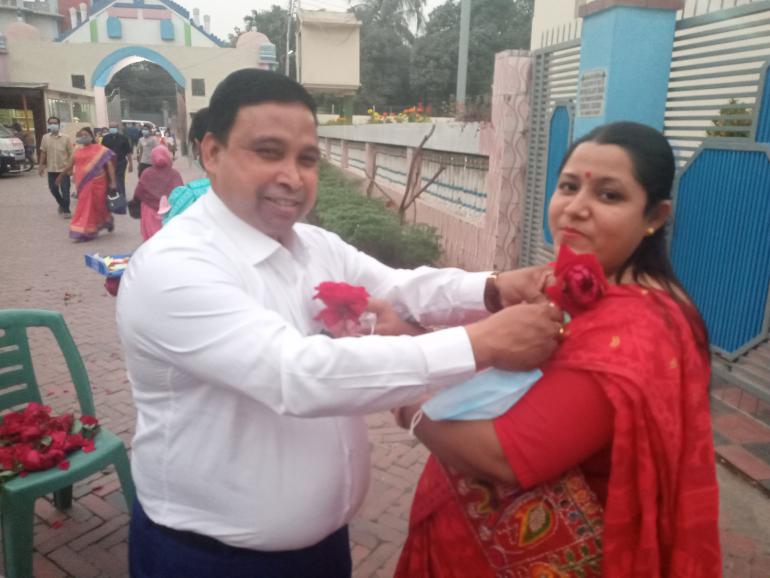 Catholic couples in Dhaka, capital of Bangladesh, celebrated "World Marriage Day" on Valentine's Day, February 14.
The celebration was held at Tejgaon Holy Rosary Church and was facilitated by the Worldwide Marriage Encounter national team in Bangladesh.
At least 600 red roses were distributed to the couples as a "symbol of love." Most of the couples also wore traditional dress in red and Panjabi.
Auxiliary Bishop Shorot Francis Gomes of Dhaka celebrated Mass during the event.
"My observation, before a wedding, men would run after the women. After marriage, one or two months, men would not even listen to the wife," said the bishop in his homily.
He said married life should not be that way. "Marriage is a holy sacrament of the Church. By receiving the sacrament, a man and a woman become one body," said the bishop.
A marriage should be "joyful with love, forgiveness, respect, tolerance and trust," he said.
"I call all couples, listen to each other each day at least 10 minutes. Share your pain and joy. Remove all pain and start a new day each day with forgiveness," said Bishop Gomes.
In 1983, the World Marriage Day was started by the group Worldwide Marriage Encounter. - Nikhil Gomez / RVA News