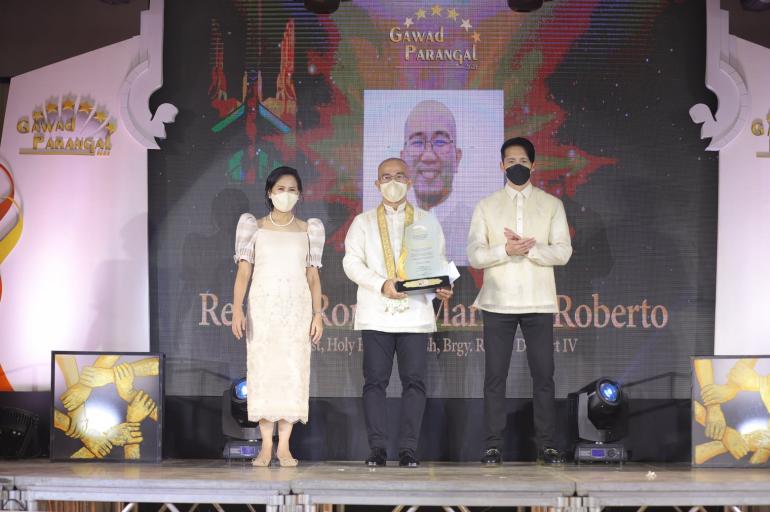 A parish priest in the Philippines, among others, has been awarded by a local government for his service to the poor during the pandemic. 
Father Ronald Mariano Roberto, the former parish priest of the Holy Family Church in Barangay (village) Roxas, Quezon City in Cubao Diocese, initiated COVID-19 relief operations when the government declared the Enhanced Community Quarantine. 
The program was able to care for more than 4000 families with the help of parishioners who supported the project.
Father Roberto also organized the 'Almusalang Parokya' (breakfast in the parish) program where homeless families and underprivileged members of the parish were given a decent meal prepared by himself.
At present, he is the parish priest at the diocesan Shrine of Sto. Niño (Infant Jesus) and director of the Diocesan Ministry for Liturgical Affairs.
As part of the 82nd founding anniversary of Quezon City, the local government recognized individuals and organizations who have been exemplary in their endeavors to help their respective communities.
With the theme "Ordinary People, Doing Extraordinary Things During Extraordinary Times," the 19th Manuel Luis Quezon Gawad Parangal Awards was on October 12, at Centris.
It is an annual awarding ceremony by the city government held every month of October in time with the city's founding anniversary.
"We are proud of you as you minister beyond liturgical celebrations and formations. You showed the fruit of liturgy which is active and living charity," said Rundolph Fernandez Bayaua, a staff of the Cubao Diocesan Ministry for Liturgical Affairs.
The awarding ceremony was attended by the awardees, Mayor Joy Belmonte, Vice Mayor Gian Sotto and select Quezon City government officials.
Belmonte commended the awardees for going beyond themselves for others.
"We all have a selfless spirit inside us. Our awardees are proof of the truth that altruism is innate in our society. They will be the first to tell you that they are ordinary people doing extraordinary things," she said.
Six individuals and six organizations were acknowledged for their contribution to the people of Quezon City.
The other awardees include Ana Patricia Non, Jean C. Aguada, Leandro Resurreccion III (+), Staff Sergeant Hidilyn Diaz and Lou Sabrina Ongkiko.
Ana Patricia Non organized the first community pantry in Quezon City. This initiative inspired the whole country to do the same – to give what you can and take only what you need. She also organized a "bigas" (rice) drive for jeepney drivers who lost their livelihood due to the lockdowns last 2020.
Jean C. Aguada is a police officer currently assigned as the Chief of Anonas Police Station Community Affairs and Development Section (SCADS); and Chief of the Women and Children Concern Section.
She nursed a five-month-old child left by her parents to earn a living, whom she found while walking on her way to their clean-up drive and feeding program in Quezon City.
Leandro Resurreccion III (+) is a pediatric surgeon well-liked by so many, was the head of the Pediatric Surgery Division at the Philippine Children's Medical Center, a pioneer pediatric transplant surgeon in the Philippines.
He was also well known locally and internationally due to his vision for pediatric surgery, especially in liver transplants which he was working to the end.
Staff Sergeant Hidilyn Diaz won the first Olympic gold medal for the Philippines. She is also an Olympic weightlifting record-holder by winning the women's 55 kg category for weightlifting at the 2020 Summer Olympics.
Lou Sabrina Ongkiko has been a public-school teacher for 12 years in Culiat Elementary School in Quezon City. She was cited for her accomplishments that included overseeing the school's learning continuity program for distance learning, strengthening science, technology, engineering, and mathematics education, and boosting students' support environment.
Organizations awarded include Philippine Animal Welfare Society, Safe Haven Community Center & Children's Home, ECPAT Philippines, BeSeekLeta for Every Juan and OCTA research.
A special posthumous award was also given to former President Benigno Simeon "Noynoy" Aquino III for his exemplary leadership and good governance as the 15th President of the Philippines and is a true Quezon City citizen.