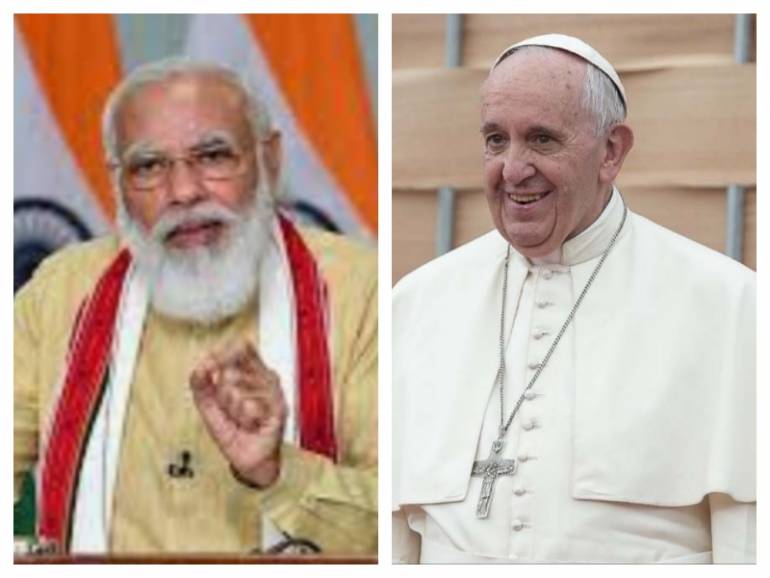 Indian Prime Minister Narendra Modi will meet with Pope Francis at the Apostolic Palace on Saturday, October 30, according to the Vatican. The meeting includes a 30-minute discussion between the Indian Prime Minister and the head of the Catholic Church.
The Indian prime Minister Modi will be travelling to Rome and Glasgow from October 29 to November 2 to attend the 16th G-20 Summit and the World Leaders' Summit of COP-26 respectively.
Indian newspapers reported that Modi would be leaving India on October 28 night to meet the 84-year-old sovereign of Vatican City State as a courtesy call.
This would be the first meeting between the leader of the world's largest democracy and Pope Francis, who heads the largest Christian denomination.
Pope Francis, who was elected the leader of the Catholic Church on March 13, 2013, a year before Modi became the Indian prime minister, has expressed his desire to visit India several times.
The Indian government has put the papal visit on hold for undisclosed reasons.
 In January last year, India's three cardinals - Oswald Gracias, George Alancherry, and Baslios Cleemis - met Prime Minister Modi and requested him to invite the Pope to India.
While the Papal visit may not be on the cards yet, the visit would inspire goodwill back in India.
The report about the two leaders meeting has come amid increasing attacks on Christians in various parts of India.
More than 300 incidents of violence targeting Christians were reported this year with Uttar Pradesh topping the list, according to a fact-finding report released on October 21.
Even as Modi meets the Pope, there is an ongoing controversy in Karnataka state over a survey of churches by government, with a view to stem 'forced religious conversions' to Christianity.
In a statement, the Kerala Catholic Bishops Council (KCBC) President Cardinal George Alencherry said that it as a "historic meeting to "add more energy and warmth to the relations between India and the Vatican and the Catholic Church.