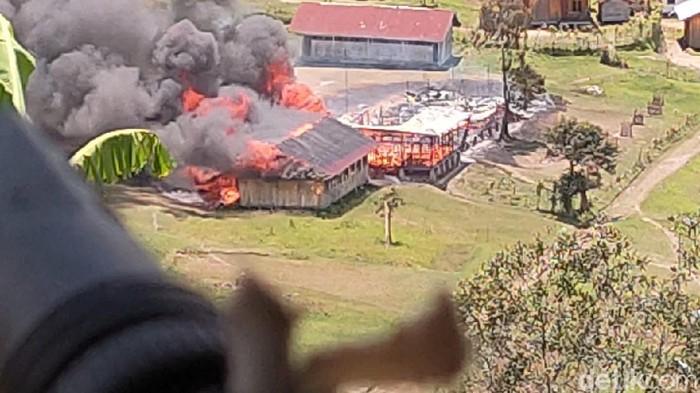 The Communion of Churches in Indonesian (CCI) strongly condemned the outrage incident in Kiwirok District, Bintang Mountains Regency, Papua Province that was caused by the Armed Criminal Group (KKB) on September 13. 
The CCI encouraged all parties to stop the use of violence and hold sustained dialogue in solving various socio-political problems in Papua.
At least one was killed and dozens, including women, were tortured.
"We are concerned, sad, and feel sorry for all the health workers who were victims of torture. Our deepest condolences to all the families of the victims," wrote Philip Situmorang, the Public Relations of Indonesia United Churches, in his press release on September 18.
In this incident, apart from the health center, the KKB, which numbered around 50 people, also burned the Papua Bank Office, the Kiwirok District Representative and Office, elementary school, market, and teachers' housing.
Not only that, but they also took hostages and tortured several people, including women health workers at the Kiwirok Health Center. Torture with immoral acts against health workers even resulted in the death of Gabriella Meilani, a 22-year-old health worker.
"This cruel behavior really hurts humanity and violates international and national provisions related to the protection of health workers," Situmorang said.
Through this press release, "Indonesian United Churches hope the authorities can immediately investigate this case and take firm action against the perpetrators according to the applicable law."
Previously, several violent cases also occurred in Papau on September 2, the attack by about 50 KKB members against the ARMY Post in Kisor Village, Maybrat Regency, West Papua, where four soldiers died.
The violence in Maybrat Regency resulted in 2,086 residents of the Maybrat Regency fleeing from their villages in the forest and neighboring villages as they sought shelter and security after the incident.
Papua has a long history of conflict. The term 'Armed Criminal Group' or KKB comes from the Indonesian police, while the KKB claimed themselves as the West Papua National Liberation Army-Free Papua Organization (TPNPB-OPM). 
"Regarding the situation that occurred in Kiwirok, I cannot confirm that it was purely an attack from the TPNPB OPM," Fr. Kleopas Sandegau of Jayapura diocese told Radio Veritas Asia.
"There is no statement yet from the priest in the Bintang Mountains Regency, especially in the Oklib Parish, where the incident took place," he added. - Emiliana Saptaningsih