Indonesia's vice president stresses 'national harmony' as he visits Catholic cathedral, mosque in Jakarta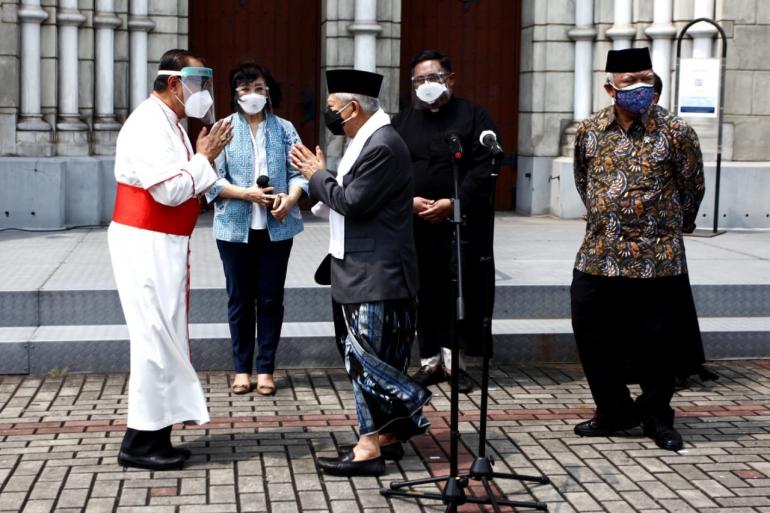 Vice President K.H. Ma'ruf Amin of Indonesia stressed the importance of "national harmony" in the country as he visited the country's main houses of worship on August 27.
"Harmony among religious communities is an important element of national harmony," said the vice president, adding that unity in the country should be protected and cultivated.
The government leader made the statement following a visit to the "Amity Tunnel," which connects the Istiqlal Mosque with the Catholic cathedral in Jakarta. 
Vice President Amin said the tunnel has a deep meaning and is not just a symbol but an inspiration for inter-religious harmony.
The Istiqlal Mosque is the largest mosque in Southeast Asia and the sixth-largest in the world in terms of capacity. It sits next to the Assumption Cathedral Church in the Indonesian capital.
"The vice president visited the amity tunnel and observed the implementation of health protocols at the Istiqlal Mosque and the Cathedral Church," said Father V. Adi Prasojo, general secretary of the Archdiocese of Jakarta.
Cardinal Ignatius Suharyo of Jakarta and Father A. Hani Rudi Hartoko, SJ, parish priest of the Cathedral Church, also welcomed the vice president.
After Friday prayers, the vice president walked through the "Amity Tunnel" to the cathedral.
"This Amity Tunnel will become a symbol of tolerance and the diversity of Indonesia," said the vice president. He said it will be "a good example" for other mosques and places of worship. - Emiliana Saptaningsih / RVA News