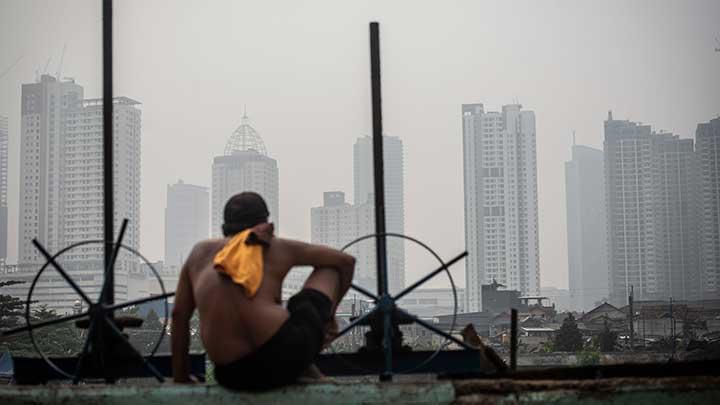 Indonesian capital Jakarta's air quality has improved in recent months. The Church is doing its part.
The policy of strict health measures due to the COVID-19 pandemic in Jakarta has succeeded in making its air clean with a suitable category, namely the PM2.5 value on average of 18.46 g/m3.
For the first time in 28 years, Jakarta's air quality has improved since April 2020.
"Almost after 28 years, the air quality in Jakarta is in a good category. With a note, there was no previous report on its air quality. In 1994, there was only an official report from UNEP (United Nations Environment Programme)," said Ahmad Safrudin, Executive Director of the Commission for the Elimination of Leaded Gasoline (KPBB).
However, government policy certainly is not making significant changes to the air quality of the city of Jakarta. Air pollution in the Jakarta area is reported getting worse.
"The available data shows that Jakarta's air quality has indeed improved (June 2021) but decreased again during the restrictions on emergency activities last July," said Bondan Andiyanu from Greenpeace Indonesia.
Meanwhile, in response to the environmental crisis in Jakarta, especially air pollution, the Jakarta Cathedral Church has started the BerSeRah movement: Bersih, Sehat, Ramah Lingkungan (Clean, Healthy, and Environmentally Friendly) since the end of last year.
The Jakarta Cathedral Church received an award from the Indonesian World Record Museum (MURI) as the first Catholic Church in Indonesia to use solar panels for electrical energy needs, reducing air pollution.
According to Jesuit Father Hani Rudi Hartoko, parish priest of the Jakarta Cathedral, the Church also contributes directly to improving the city's air and the environment by caring for the earth.
The program includes solar panel installation, reducing the use of plastic bottles, using cloth and recycled bags as shopping bags, and food security by planting vegetables and trees around house.
The parish claims that by implementing these activities they are partaking in Pope Francis' invitation of 'Laudato Si' and care for mother earth.
IQAir's World Air Quality Report for 2020 says Jakarta is the ninth-worst capital city globally in terms of PM.2.5 levels, which can be harmful to human health at high levels. This report makes the air quality in Jakarta the worst in Southeast Asia.
According to the report, air pollution can shorten the average life expectancy of Indonesians by two years and in the most polluted regions by seven years.
Air pollution levels are six times higher than the World Health Organization (WHO) guidelines, and air pollution could reduce the life expectancy of people in Jakarta by as much as 4.8 years.
Recently, the Central Jakarta District Court on September 6 granted the government a lawsuit filed by 32 complainants from the Initiative Movement for Clean Air Coalition related to air pollution.
The lawsuit is a final effort to force authorities to take action against air pollution in and around Jakarta, an area home to more than 30 million people.
They charged seven parties on this matter, including President Joko Widodo, Minister of Environment and Forestry, Minister of Health, Minister of Home Affairs, Governors of Jakarta, West Java and Banten.
The authorities were blamed for being negligent and failed to protect citizens. Pointing to scientific research, they say air pollution can lead to conditions like asthma, heart disease and lower life expectancy.
As Jakarta is a home for more than 11 million people, air pollution is one of the concerns for the local government.
The industrial sector, transportation sector, and household waste which have been neglected are the main major air pollution contributors.
According to Jakarta Environmental Agency, the leading cause of air pollution in Jakarta is motor vehicle fumes. So far, 75% of air pollution is caused by the transportation sector.
Since 2019, the Indonesian Lung Doctors Association has recommended Jakarta Government regarding air pollution, but this recommendation has had no response.
The recommendation includes urging the government to control air pollution, increase tree planting or city lungs, and maximize air quality monitoring.
In addition, the recommendation is to provide more mass and inexpensive transportation facilities to reduce pollutant emission sources from private vehicle exhaust.
The recommendation given two years ago was also addressed to the people of Jakarta, including not burning trash indiscriminately, utilizing existing facilities and planting trees.
- Emiliana Saptaningsih