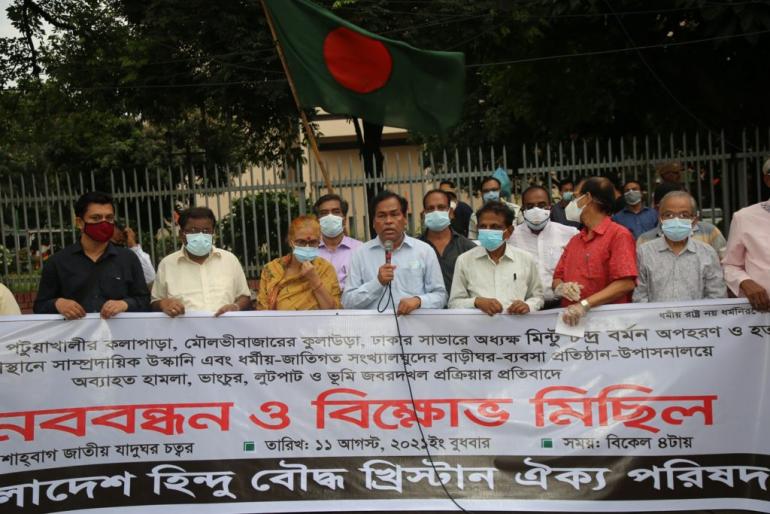 Human rights and minority groups in Bangladesh staged a demonstration last week to protest alleged abuses and torture of minorities in the country.
The groups held a "human chain" outside the National Museum in Dhaka on August 11 to dramatize their opposition to what they described as "persecution of religious minorities."
They said the "persecutions" happened even in the middle of the pandemic.
On August 7, several Hindu temples and shops in the village of Shialia in Rupsa in Khulna were vandalized, while in Ashulia, police recovered the mutilated body of a school principal after he disappeared for almost a month.
"It was not an isolated incident but another shameful example of the atrocities perpetrated on minorities during the coronavirus pandemic," read a statement released by the protesters.
"We strongly protest against all previous incidents of torture of minorities, including harassment and human rights violations, and call for exemplary punishment and swift arrest of the perpetrators," it added.
"We demand the government take proactive steps to involve the people in building resistance against any kind of communal attacks and torture besides taking political, administrative and legal measures to prevent such incidents from happening again," the groups said.
The protesters called on the government to pass the "Minority Protection Act" to stop attacks on the country's minorities. 
The speakers at the demonstration noted that repeated attacks on minorities are being done by extremist groups. - Nikhil Gomes / RVA News