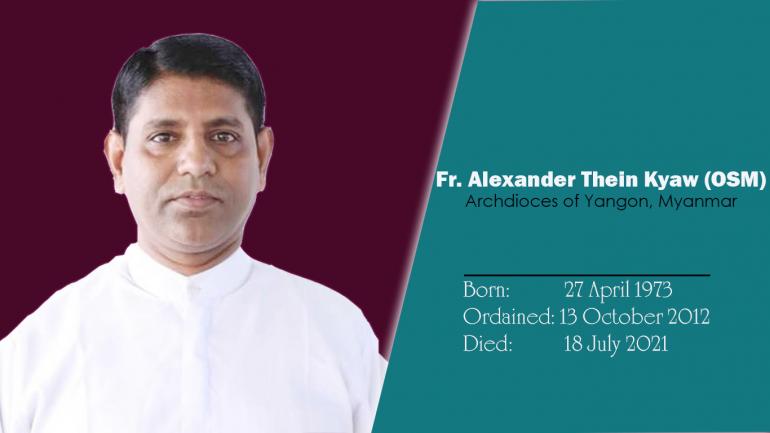 A priest in the Archdiocese of Yangon in Myanmar died of COVID-19 on Sunday, July 18.
Father Alexander Thein Kyaw was parish priest of the Our Lady of Fatima Church in Thone Kwa town. He was a member of the Order of Servants of Mary congregation.
The priest was born on April 27, 1973, and was ordained priest on Oct. 13, 2012, in Yangon. 
He was a professor in his congregation's seminary from 2012 to 2014 until he was assigned as assistant priest at the Our Lady of Fatima in Thone Kwa.
Father Thein Kyaw was the first priest from the archdiocese to succumb to COVID-19.
Father Matthew Moo Kapaw, a senior priest in the archdiocese, reminded members of the clergy to "always tak care of oneself, especially while administering the sacraments."
At least three priests in the Archdiocese of Yangon have been tested positive of COVID-19.
Health ministry figures showed deaths from COVID-19 stood at 231 on Sunday from a record 233 on Saturday, but medics and funeral services say the real toll is much higher, and crematoriums are overloaded.
The total official death toll has risen 50% already this month to 5,000 with the spread of the Delta variant that has also surged elsewhere in Southeast Asia. - Saw Hubert / RVA News