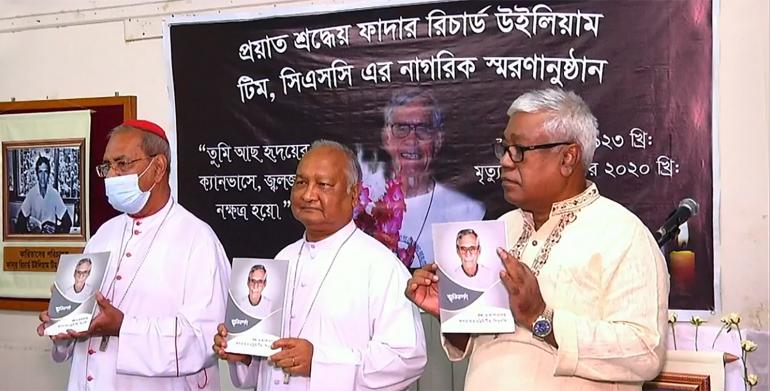 Civil society members joined church officials in Bangladesh to pay homage to American Holy Cross priest Richard William Timm for his extraordinary contributions to education, science, research, human rights, pioneering development works for rebuilding the war-torn country and uplifting the poor and downtrodden.
Father Timm died in the United States on Sept. 11 at the age of 97. From 1952 to 2016, he served Bangladesh in various roles and became one of the country's best-known missionaries.
A civic commemoration meeting was held in his memory at the national office of Catholic charity Caritas Bangladesh in Dhaka on Oct. 23.
Cardinal Patrick D'Rozario, the retired archbishop of Dhaka, and Bishop Gervas Rozario of Rajshahi, Caritas Bangladesh president, lit candles in front of a portrait of Father Timm to pay respects. A documentary on the great missionary, produced by Caritas, was screened for the audience.
Cardinal D'Rozario and other guests shared their memories and reflections on the life and works of Father Timm.
"Father Timm is alive. He is immortal in his thoughts, in his words, in his deeds," Cardinal D'Rozario said.
"Father Timm devised various development programs. He selflessly served in the remote villages," said Bishop Gervas Rozario.
Aroma Dutta, parliamentarian and executive director of PRIP Trust, described Father Timm as a pioneer of development in Bangladesh. "He was the father of the NGOs in Bangladesh," said Dutta, a Hindu.
Sanjeeb Drong, a writer, columnist and indigenous rights activist, hailed the missionary priest as a champion of the rights of ethnic minorities.
"Saddened by the plight of indigenous peoples in the plains and hills, Father Timm wrote articles and books and spoke for rights and justice for them. He is a source of inspiration for rights activists like us who continue to struggle for the rights of indigenous peoples," said Drong, an ethnic Garo Catholic and secretary of the Bangladesh Indigenous Peoples Forum.
True friend of Bangladesh 
Richard W. Timm was born on March 2, 1923, in Indiana. He was ordained a Holy Cross priest in 1949 and completed his master's and PhD in biology at the Catholic University of America in Washington from 1949-52. He arrived in Dhaka, capital of East Bengal (now Bangladesh) as a missionary in 1952.
From 1952-70, he was the founder and head of the Science department, professor of biology and principal of Notre Dame College in Dhaka.
He was a lecturer in parasitology at Dhaka University and Dhaka Medical College 1953-54 and wrote highly popular textbooks on biology for college students.
Father Timm was a researcher of rice and jute nematodes (parasites) with the state-run Agricultural Research Institute and a Southeast Asia Treaty Organization (SEATO) research fellow in Thailand and the Philippines from 1954-70.
In 1965, SEATO published his book The Plant-Parasitic nematodes of Thailand and the Philippines.
He discovered over 250 nematodes in Bangladesh, Thailand, the Philippines and Antarctica, including Timmia parva named after him.
In 1964, he was one of the pioneers in setting up Jagoroni (Awakening), a handicrafts center in Dhaka, to support poor and physically challenged women.
From 1968-70, Father Timm was a visiting professor of nematology at the University of California, including two and a half months' research in Antarctica. He is considered one of the pioneering researchers reflecting on the impact of climate change on marine nematodes.
Father Timm returned to Dhaka shortly before a massive cyclone hit coastal areas of East Pakistan on Nov. 12, 1970, killing an estimated 500,000 people.
He joined with CORR — Christian Organization for Relief and Rehabilitation (later renamed Caritas) — and stayed in Manpura island, the most affected area, for six months to carry out humanitarian activities. He never returned to academic life since then.
During the 1971 War of Liberation from Pakistan, Father Timm wrote secret letters to his friends in the US documenting atrocities of the Pakistan army that raised strong public opinion in favor of Bangladesh independence.
Following the war, he joined fellow Holy Cross missionary Father Benjamin Labbe to seek humanitarian aid on behalf of CORR (later renamed Caritas Bangladesh). They secured US$30-million funds which were crucial for rebuilding the war-torn country.
Father Timm played a vital role as a Caritas planning officer from 1972-1974 and as the national director from 1974-76.
To support war widows, women raped by the Pakistan military during war and abandoned by their families, he set up and became executive director of CORR-The Jute Works, a Caritas trust for selling and exporting handicrafts made by poor rural women.
In 1974, he pioneered formation of the Association for Development Agencies in Bangladesh, apex body of NGOs.
For 23 years since 1974, he was the executive secretary of the Catholic Bishops' Justice and Peace Commission and took courageous actions.
He conducted first surveys on the plights of garment factory workers and domestic helps and played a vital role in stopping forced sterilization by the military government in 1985. In 1991, he published Adivasi of Bangladesh, a book which documented for the first time the plight and human rights violations of the country's ethnic communities.
He also founded and headed the Coordinating Council for Human Rights in Bangladesh and played a key role in the South Asian Forum for Human Rights.
He documented rights violations and published newsletters in English and Bengali to pressure successive governments to protect the rights of peoples.
In 1978, the Vatican awarded him the Pro Ecclesia et Pontifice (also known as the Cross of Honor), the highest honor from the pope for Catholic clergy and laypeople. In 1987, he won the Ramon Magsaysay award for international understanding.
For his seminal role during the war, the Bangladesh government accorded him the Friends of Bangladesh Liberation War award in 2012. He left for the US due to poor health in 2016. - Union of Catholic Asian News