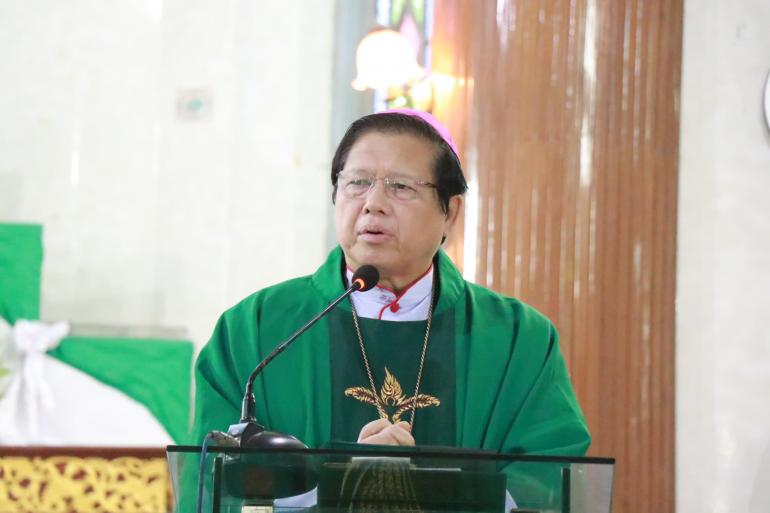 Bishop John Hsane Hgyi of Pathein in Myanmar released on August 26 new guidelines that aim to prevent a "second wave" of the coronavirus pandemic in his diocese.
"Be aware of COVID-19 that rapidly changes its genre ten times, and due to its transmission, factories and workshops are closed," said Bishop John.
The prelate warned that food supply might be affected and advised priests, nuns, and lay people in the diocese to eat nutritious and healthy food.
Bishop John also encouraged the public to spend their money wisely and to avoid going out to the market often. He also warned against unnecessary visits to the hospital.
"It is crucial to always wear a mask, to avoid gathering the crowd, and to stay at six feet distance," he said, adding that the virus spreads rapidly and is transmitted through air.
"The rate of transmission is very fast," said Bishop John. "I encourage all people to attentively prevent rapid transmission," he said.
"It is necessary to be strong enough. To have the strength in fighting COVID-19, it is required to eat healthy food, to do physical exercise, to meditate, and pray," said the prelate.
"I pray that all may be free from COVID-19, from sins, and get closer to God," he added.
Health authorities in Myanmar reported 106 new cases of the new coronavirus disease on August 26, the highest single-day surge since the first case was detected in the country in March.
According to the Health and Sports Ministry, 93 new virus cases were found in the western Rakhine State, home to hundreds of thousands of Rohingya Muslims.
The Myanmar government also announced the temporary closure of all public and private high schools in the country, affecting more than 1.2 million students. 
Public and private high schools were allowed to reopen since July 21 after two-month suspension due to the new coronavirus cases.
As of August 26, Myanmar has reported a total of 580 COVID-19 cases with 345 recoveries and six deaths. - RVA News